Five years ago, Maria Kang posted a photo on Facebook that saw her go viral for all the wrong reasons.
In the 2013 picture, the mother of three posed in fitness gear with her children. Above her head in large black font were the words "What's your excuse?"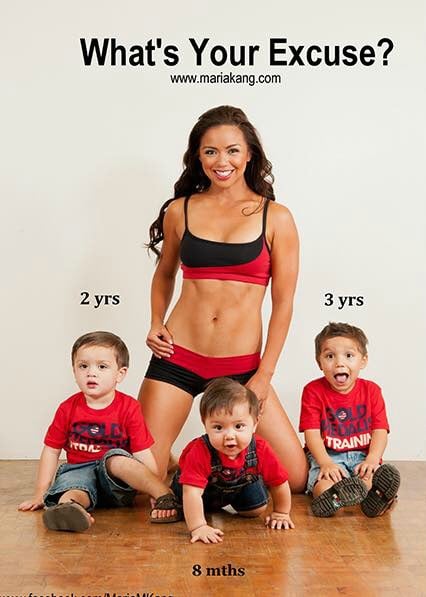 The 37 year old's image instantly attracted criticism as many argued she was body-shaming women and other mums who didn't have her "unattainable" body type.
Kang went on to launch the 'No Excuse Mom Movement' as well as a diet book and calendar of the same name.
Now she's recreated the controversial image for her 330,000 followers with one major difference.
Yes, her children are older but it's the phrase that's changed, with "excuse" replaced by "reason".
"After you address your Excuse, you need to find your Reason. Five years later I'm still seeking the hard route, after all, in a country where you are the Healthy minority you must #dodifferent," she wrote.
"You need to find your reason, your WHY for prioritizing your health. You are who you surround yourself with so if everyone is starting an extreme diet, be balanced. If everyone is sitting watching TV shows, get up and move. If everyone is ordering high-calorie meals and drinking sugary drinks, choose otherwise!
"You know what's right, just don't follow the habits and lifestyle of the majority of overweight/obese people who do it wrong. Many asked for a side-by-side so here you go! What's Your Reason? Plant it and GROW."
LISTEN: Personal Trainer Tiffiny Hall speaks to Mia Freedman about her decision to share the unorthodox post-birth photo that inspired women everywhere (post continues after audio...)