It was a cold and windy night when I first learned about periods. My sister and mother were locking the the bathroom frantically whispering. I thought I heard my sister crying.
Blood. So much blood.
A mortifying sex-ed lesson at high school later (thank goodness I was a late bloomer) and I'd been properly informed about my monthly cycle. Questions directed at my mum were waved off. My sister shamefully and mercifully explained what I was meant to do to manage the flow, so to speak.
There wasn't anything celebratory about it. So even now, I can't help but feel a flash of envy for a lucky young teenager whose mother has thrown her a first 'period party' to celebrate — complete with a cake with red icing.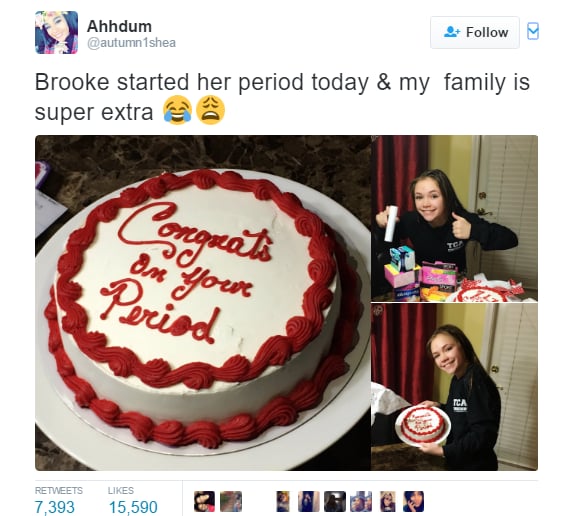 It's just too wonderful, too perfect for words.
Florida mum Shelly Lee organised the party for 12-year-old Brooke, and gave her a box filled with pads and tampons. It was Brooke's cousin Autumn who shared the special event with the world on Twitter.
The tweet has been shared over 7,000 times, with comments congratulating the family for their support of Brooke during what can be a difficult time.
Listen: Mamamia Out Loud discusses why the tampon tax is a bloody outrage. (Post continues after audio.)
Shelly told BuzzFeed her daughter was nervous about getting her period so she wanted to lighten things up, saying, "[she] was anxious to have her period. I wanted to make this event a little more fun!"