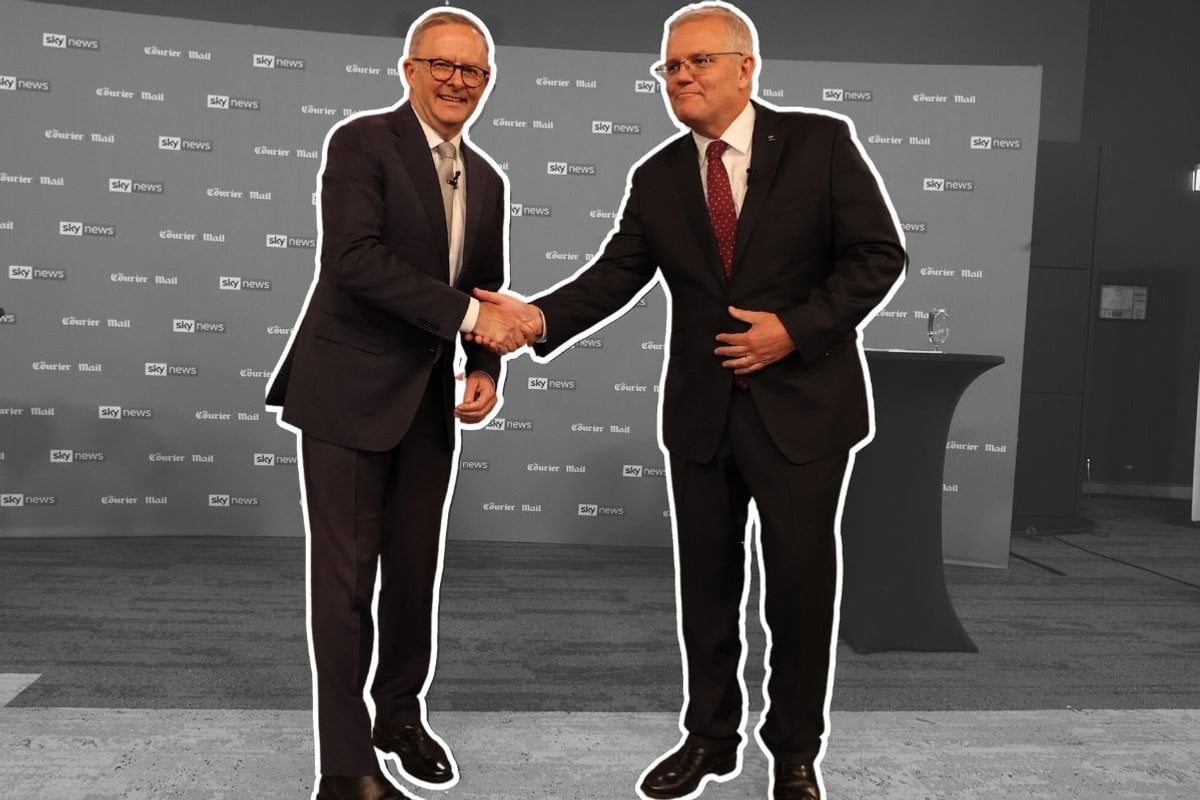 To keep up to date with the federal election campaign as we head to the polls to vote on May 21, visit our election hub page. There you'll find analysis, explainers and all the results of our Mamamia Votes survey.
Last night we watched as Prime Minister Scott Morrison and Opposition Leader Anthony Albanese went head to head in the first leaders' debate of the election.
Both leaders faced questions from a panel of 100 undecided voters, ranging from the economy, nursing in aged care and the need for a federal integrity commission.
During the debate, Morrison won on the government's economic handling during the pandemic and recent budget turnaround while Labor took out the win for aged care reform and funding the NDIS.
Watch: 'Both were quite impressive'. People react to leaders' debate. Post continues below.

Video via Sky News.
Of the voters in the room, 40 percent backed the opposition leader while 35 percent thought the prime minister had the better night. However, 25 percent still remained undecided.
In case you missed it, here are the four biggest takeaways from the debate. 
1. Aged care reform dominated discussion. 
Aged care reform was one of big topics raised during the debate, with Labor calling for nurses to be stationed 24/7 in aged care facilities, along with better nutrition and care for residents.
When asked about how the nursing workforce would be supported in aged care, Albanese said there was a critical need for more nurses to be trained up.
"Most people would be surprised that there aren't nurses in nursing homes, because it seems so fundamental," he said.
"Our aged care plan isn't something we've dreamed up, it is something that comes from the royal commission."
But Morrison said extra staff couldn't just "fall out of the sky", warning the plan would have repercussions in the sector.
"If you make that standard in aged care facilities right across Australia right now, then you will be closing aged care facilities in rural and regional communities across the country," he said.
2. ScoMo's comments about disability are copping criticism.
The prime minister has been fielding criticism today, after his comments last night that he and his wife were "blessed" to have children who did not have disabilities.
His comment came after an audience question over NDIS funding from the mother of an autistic child who had their support on the scheme slashed by 30 percent.