Guys, we're here. We survived a whole week and it's finally First Dates time once again.
DO YOU HAVE WINE?
Good. You're going to need it.
First up, we meet Jeremy. He's 23 and runs his own building company, which makes him infinitely more accomplished than I ever was at the same age.
Oh, girls also think he's "kind of a player". That's probably because you like to pose like this, Jeremy:
In all fairness, Jeremy seems like a top bloke who just wants a girl to be able to "chuck on a flanno and go camping" and probably boil up some billy tea to have with some damper. Or something.
His date is with 21-year-old preschool teacher Mackenzie, who admits, after NO PRODDING FROM THE PRODUCERS WHATSOEVER, that she can very much pitch her own tent.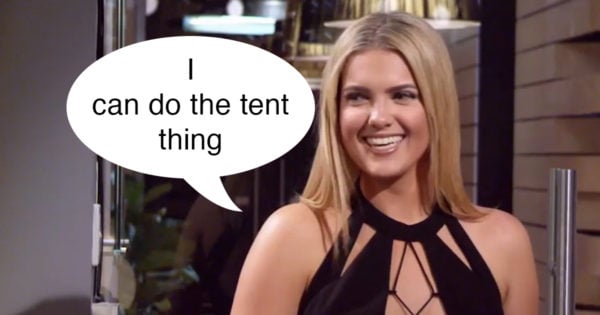 Jeremy thinks Mackenzie is "just wow", and I instantly fall in love with her when she orders a "sav B" from Barman Cam. THIS is a girl I want to be friends with.
Then... horror strikes. Macca (I feel Jeremy would definitely appreciate that nickname) wants to talk about past relationships and keeps talking about how over her ex she is.
Babe, no. Saying "I'm so over him" is the reddest of flags. Stop.
Then she spills a glass of water all of him and she is NOT AT ALL SORRY about his wet pants and making him ask for a "pat down".
The sexual chemistry is real but when asked if he wants a second date, Jeremy says he wants Macca to have more time "to be single" and says she is clearly not over her ex.
Ugh. Love is hard, kids.