Let's take a moment and think of the worst thing that could happen on a first date with someone.
You could… forget their name? Talk about your weird drooling habit? Have your credit card declined?
Well, you're in luck, my friends, because the latest episode of First Dates has delivered us a hat-trick of awkwardness.
Let. Us. Begin.
First we meet Ryan, a 29-year-old "IT salesman" — which I'm pretty sure just means he is one of those guys in the blue shirts at the Apple store.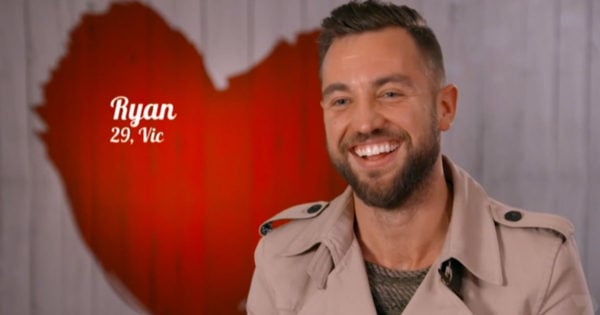 Because he is a salesman, Ryan gives us a quick elevator pitch as to why he is your perfect man: "I'm 29 years old, I'm young, I'm fit, I'm single, I'm pretty good looking, I think I dress pretty well. I own my own house, I work for a great company, I earn a lot of money, I'd give myself a high nine out of 10."
Geez, Ryan, that wasn't short at all. Is this date over yet?
He also wants someone who is "laid-back and chilled" but also someone who likes to go out and party, and we're pretty sure Ryan doesn't realise he's literally described two COMPLETELY DIFFERENT types of people.
In walks 25-year-Claire, who is... holy gosh, you guys, she is a DOLPHIN TRAINER.