Rope technician by day, rose technician by night.
Channel 10 has offered us the first promo of the new Bachelor series, and it's jam-packed with James Bond.
The 19-second clip is modeled off the classic intro sequences to Bond films with Bachelor Richie Strahan appearing as a strawberry blonde substitute.
It seems drawing the connection between a man who often appears in a suave suit and the most iconic man to appear in a suave suit was too good an opportunity to pass up.
But we're not complaining — oh no.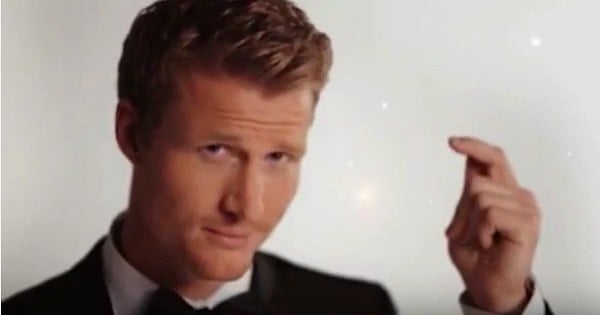 There may be no guns on display (other than those hiding in fitted sleeves) but Richie does a remarkable job of staying steamy while modelling a cliche.
The clip begins with Richie buttoning up a classic white shirt to a tune that skates dangerously close to copyright infringement.
Can't wait for Bachie to start? Rosie Waterland has a message for you...
Ooh, danger. Channel 10 is too cool to care.
Once he's finished demonstrating his bedroom eyes and buttoning abilities, our bach-to-be walks through a white background before he stops, turns and poses with a rose.