Eyebrows. Ahh yes, the facial feature that is said to be the most defining. The feature that's single-handedly meant to frame your face and determine your entire expression. No biggie. 
It's no wonder that we want to get them right. 
That's why we bought our first pair of tweezers when we were 14, and why we endured lying on that table in that little back room with the curtain — you know the one — to have our brows (often painfully) trimmed and tweezed.
All in the name of beauty. 
Lucky for us, this whole process has undergone a revolution, making it all a lot easier for us. 
Finishing Touch Flawless Brows is a nifty battery-operated device making hair removal an actual dream. It removes hair instantly and painlessly without the irritation that typically comes from other hair removal methods. Hallelujah!
Whether you need to get rid of hair above, below or between your brows, the Finishing Touch Flawless Brows has an ultra-fine tip so you can get precise results (here's looking at you, pesky stray hair under my arch!).
Plus, the device has a built-in LED light so you don't miss any hairs along the way.
It also looks exactly like a lipstick so you'd be proud to carry it in your purse and whip it out whenever you need a 'lil ol' touch-up. 
Oh, and just as a little boujee-bonus, it has a hypoallergenic, 18-karat gold plated head that is gentle enough to use every day. And why wouldn't you, when it's so easy to use and leaves no nicks, cuts, bumps, redness or irritation.
Want to know if it lives up to the hype? We asked our Mamamia You Beauty Panel to roadtest the Finishing Touch Flawless Brows and report back with their honest thoughts (...and flawless brows). 
Here's what they reported back. 
Alicia, 30: "The perfect lazy girl product."
"This is the perfect lazy girl product. There is absolutely no pain at all. 
"It also leaves the skin feeling smooth and there's no irritation. It's easy to use and produces really quick results. I used it mainly on my eyebrows, but it worked really well on those sneaky upper lip hairs too."
Chelsea, 30: "A great tool to have in my bag of tricks."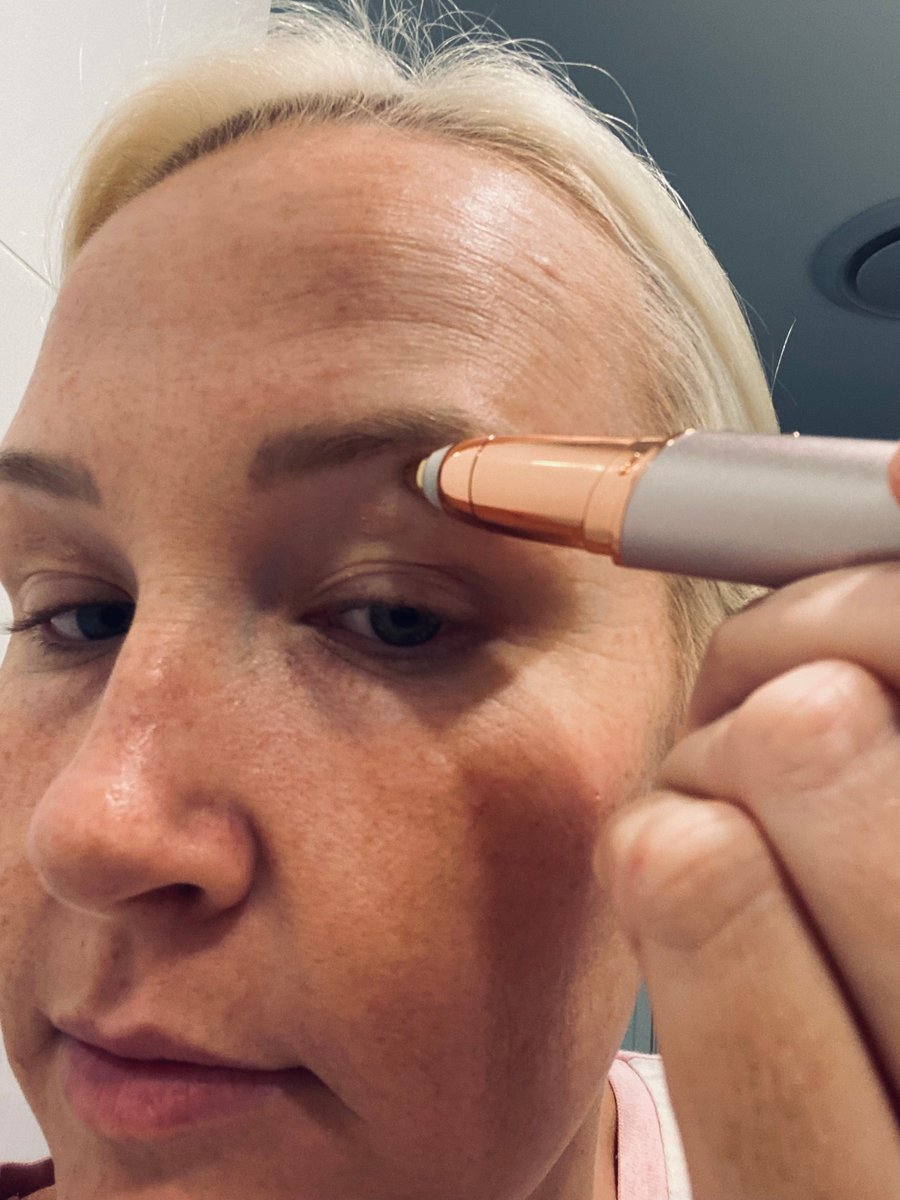 "I want to just freshen up my brows." Image: Supplied.