The share function on Facebook is primarily reserved for reposting content a person truly endorses.
Like a Joe Biden meme, or an article about how to make sure your dog has a great summer. You share content you really believe in, are passionate about, and feel fundamentally represents who you are.
Which is why I wasn't surprised at all when I noticed this story dominating my Facebook feed, as a byproduct of a number of men (at least, men I'm friends with) sharing it: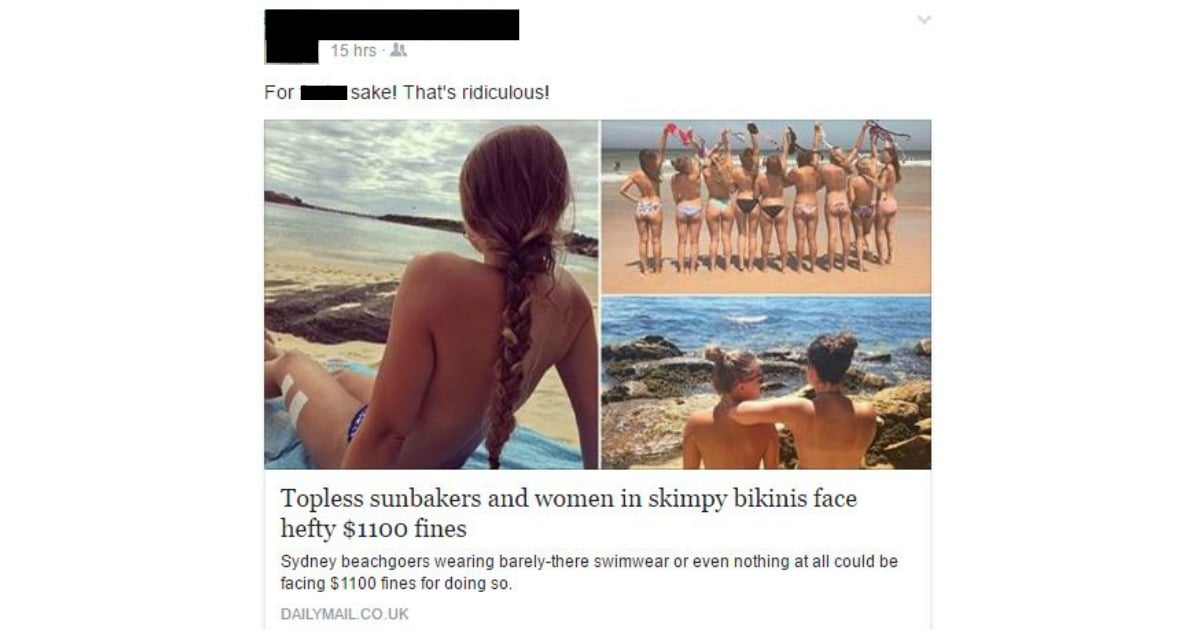 The outrage!
Men weren't only sharing this story, they were commenting on it in droves, voicing their ~genuine~ concern for very hot young women not being able to show their boobs in public.
Derek, whose comment had received over one hundred likes, and was the most popular comment on the post, wrote "The more topless girls the better, I think they look great and it should be encouraged."
Aww...um, thanks Derek.
"Definitely NO for the older women however, not nice."
Oh.
Well, that's rude. I thought Derek might genuinely have noticed the double standard that exists when it comes to men and women at the beach - you know, that men are able to go topless and women aren't, because through no fault of their own, women's breasts (and more specifically, nipples) are seen as inherently sexual.