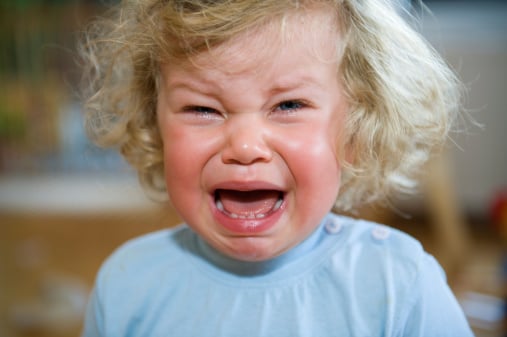 Sydney mum Janin Mayer has received a letter from strata company Bright & Duggan, threatening legal action and a $550 fine unless she can control her noisy toddler.
Ms Mayer, 33, was told the company had received reports that her 19-month-old Elliav has been "shouting and screaming", which has disturbed fellow residents.
'Keep your child quiet or pay $550': A SYDNEY mum received a letter from her apartment building strata company… https://t.co/uTySd3eF0C

— Voucher Code (AU) (@AdriannaGoergen) March 7, 2016
Over the weekend, Mayer posted the letter to Facebook, where it has since attracted a great deal of attention.
The letter read:
"Living harmoniously within a strata scheme requires all occupiers to be aware and considerate of each other. Strata by-laws are adopted to give guidance and outline the standard of behaviour expected to ensure that all residents enjoy a peaceful existence.

"It has been brought to our attention that excessive noise, in the form of your child shouting and screaming, is emanating from your apartment from early in the morning to very late at night on a regular basis. This is disturbing other residents and as such you are in breach of the strata scheme by-laws.

"Please refrain from allowing your child to create excessive noise immediately and into the future. You must be mindful of other residents and keep noise levels to a minimum at all times.

"Continued breaches of the by-laws may result in the matter being taken further and a fine of $550 being imposed by the NSW Civil & Administrative Tribunal."
Ms Mayer, who lives in Vaucluse in the Eastern suburbs of Sydney, was distressed by the "threatening" tone of the letter, and described it as "discrimination to the utmost." She posted on Facebook that she was "revolted" by the company's actions, as a number of her friends voiced their support.
Janin Mayer and her husband Evi, 35, moved into their two-bedroom unit at Christmas time last year. The stay-at-home mum is expecting a second child in April, and is worried about what will happen as their family grows, and inevitably gets louder.
She told news.com.au, "There's not really anything we can do. Obviously we're aware of the fact that we're in a city and there are neighbours. We keep the windows shut. [But] we're not partying... He's a toddler, that's what toddlers do. There are other kids in the building but they are a bit older."
What annoys Janin and Evi Mayer most, however, is the indirect communication on the part of their neighbours. They find it difficult to understand why they couldn't have been approached openly by fellow residents who were frustrated by the noise level caused by their 19-month-old. Perhaps the issue could have been resolved without the involvement of the strata company.
"Just from a community perspective, it's nice to have those old-fashioned values," Ms Mayer commented.
Watch Mia Freedman discuss how much you need to play with your baby. Post continues after video.
The issues experienced by this Sydney family shed light on the difficulties many young couples face. Janin and Evi Mayer pay $560 a week for their small unit, and they say the threatening letter has reinforced their long-term decision to leave Sydney. Ms Mayer says, "The cost of childcare, the cost of rent, makes it impossible to save. Who can afford to buy?"
Hopefully the outraged response to Ms Mayer's Facebook post is evidence of some solidarity in the wider community of parents, who understand that toddlers are, in fact, noisy, and neither letters, nor fines, can keep them quiet.