Fifi Box and Project host Carrie Bickmore opened the show last night by taking a dig at New Idea magazine which this week featured the intriguing cover line "Fifi and Grant Beach Wedding Joy."
The magazine was referring to Grant Kenny who is the father of Fifi's three-year-old daughter Trixie.
Last week Fifi finally confirmed Kenny was the girl's father when she posted a series of pictures of Grant with Trixie at the preschooler's birthday party to Instagram.
Although the pair dated briefly around the time Fifi fell pregnant in 2012, they have refused to discuss their relationship.
New Idea was clearly alluding to a wedding between Kenny and Fifi on the cover but once inside it was revealed the wedding was that of Kenny's daughter Morgan, 25 who is tying the knot in Fiji.
Last night when co-host Carrie Bickmore introduced Box, who is a regular guest panelist,  she congratulated Fifi on her upcoming 'beach wedding'.
"And should we start by saying congratulations because am I right in reading there's a beach wedding on the cards?" Bickmore said.
"Do you know what Carrie, I was as surprised as you were when I read a headline that I was having a beach wedding," Box said.
"And then I thought, the most recent beach I've been to is with you  – and I'm thinking, did we get married?"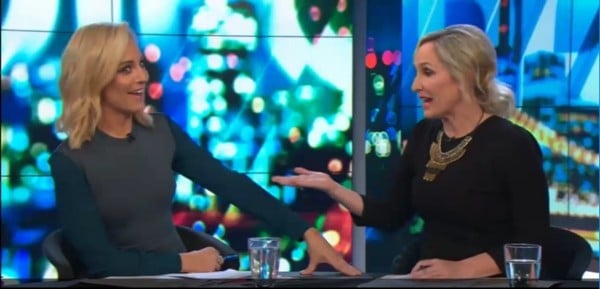 "Well, we can," Carrie said with a grin.