This week, Donald Trump's first wife Ivana had a wee lil' dig at his current wife Melania Trump while promoting her new book. You see, in an interview with Good Morning America on Monday, Ivana joked that she was the "first lady".
"I [don't] really want to call him [at the White House], because Melania is there. And I don't want to cause any kind of jealousy or something like that, because I'm basically first Trump wife. Okay? I'm first lady."
Which is… uh… equal parts hilarious and factually incorrect.
Melania responded with the statement, "Mrs Trump has made the White House a home for Barron and the President. She loves living in Washington, DC, and is honoured by her role as first lady of the United States. She plans to use her title and role to help children, not sell books," to CNN.
But this isn't the first time Trump's former and current partners have had public exchanges like this. Upon a wider glance, a fascinating dialogue and history emerges between first wife Ivana, second wife Marla Maples, and third wife Melania.
Proving, in the most public way possible, that being bound to a man you once loved by your children can be tumultuous – especially when he moves on with another woman.
This isn't to say women can't get along with their ex's new spouse – of course they can. But what these three woman illustrate so messily, so rawly, is that these situations are precarious. And they certainly aren't always pretty.
Listen: Is this how you really behave when talking about an ex? (Post continues…)

The affair that started it all
Back in the late '80s Trump was married to Ivana, but cheating on her with actress Marla Maples. The women had an altercation about this in Aspen, Colorado, in 1989 that Ivana mentions in her memoir, Raising Trump.
"This young blonde woman approached me out of the blue and said 'I'm Marla and I love your husband. Do you?'" Ivana writes.
She apparently responded: 'Get lost. I love my husband', telling readers: "It was unladylike, but I was in shock."
Only according to one witness, that wasn't exactly the words Ivana used.
The source told People magazine that Ivana confronted, Marla, who was 26 years old at the time, saying "You bitch, leave my husband alone."
Of course, those old enough at the time will remember that in 1990 a New York Post front page famously had a headline featuring 'Best sex I ever had' – which Marla's friend claims to have told her Trump gave her.
Post-split words and apologies
Later that year, as Ivana and Trump separated, Ivana gave an interview to Vanity Fair where she spoke about the damage the split had caused to her children.
"The children are all wrecks," she said. "Ivanka now comes home from school crying, 'Mummy, does it mean I'm not going to be Ivanka Trump anymore?' Little Eric asks me, 'Is it true you are going away and not coming back?'"
In 1992, Ivana's divorce from Trump was finalised. And in 1999, after six years of marriage, Marla was also done being Mrs Trump.
That year she told the UK's Telegraph, that she regretted the "harm" she caused Ivana and had apologised.
"I know she lives in London now and, if she reads this, I want her to know again how sorry I am about everything," she said.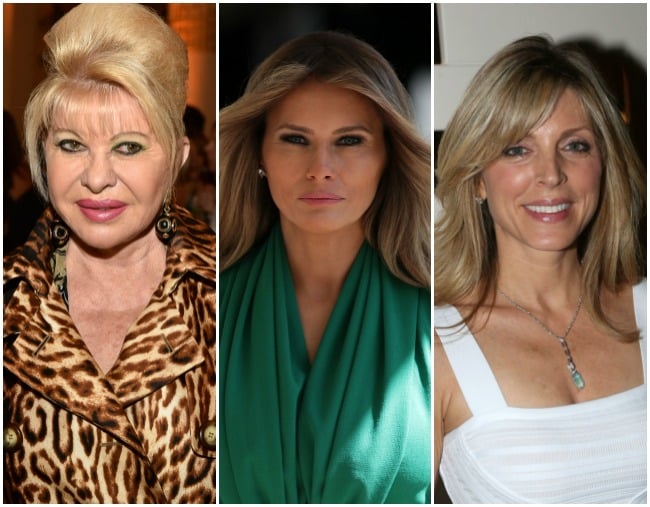 She went on to say that she never wanted to marry Donald, and explained how she got caught up in an "illusion".
"He and his world were alien to me… I'm so happy to be away from Donald and I'm just trying to move as far away as I can."
"Donald was obsessed with me and was always running after me. I couldn't get away.
"From the time I was 22, he pursued me and, foolishly, I listened to some of his promises. [Our marriage] was built on an illusion. I thought that I could change him. But he won't change. Then I finally found the courage to walk away and stay away… After I became a mother [to Tiffany] I was less willing to put up with his behaviour."
Decades on, Ivana still does not accept Marla's apology
More than 20 years after her marriage to Trump ended, Ivana is not ready to forgive the woman partially involved in its demise.
In April 2016, Ivana told the New York Post: "[Marla] asked to apologise to me in the Daily Mail in London. They asked if I accepted the apology and I said no. Why should I? She broke my marriage!"
A few weeks later, People magazine asked Marla to respond. She told them it "makes me sad, because I wish her nothing but love. I love her kids, and if she's holding any kind of resentment toward me, I really hope, for her sake, that she can forgive me."
However, Ivana hasn't. In an interview with Page Six this week, she referred to Marla as a "showgirl" and a "nobody".
Listen: Trump's 'IQ feud' with his own Secretary of State, and the two Nigerian Men hired by the Russians to throw shade at Hillary. (Post continues...)

"She broke my marriage and destroyed my family. And now she's nobody," she said.
"Last year, during the presidential campaign, they asked me to do Dancing with the Stars. I could not do it because it would have been disrespectful to Donald. I was not going to be on the dance floor with my boobs hanging out, and my butt hanging out. But guess what? Marla Maples took it. She lasted one week. And when she lost I said, 'Hey, hey, hey, hey!' I was never happier in my life."
Keeping up the criticism of her reluctant rival, Ivana told CBS's Sunday Morning this week Marla was "a showgirl" who has "never achieve anything in her life".
Ivana's critique of Melania
Ivana hasn't been so outspoken in her criticism of Melania, but an overheard 2015 conversation reported by New York Daily News suggests that their relationship is similarly frayed.
Months after Donald Trump announced he was running for US presidency in June 2015, Ivana was unimpressed with Melania's decision to stay away from the campaign.
"What is he going to do with his third wife?" she said, according to the paper. "She can't talk, she can't give a speech, she doesn't go to events, she doesn't (seem to) want to be involved."
Aaahhhhh, dear. Just another day in the Trump circus, no?
H/t Marie Claire.