Many parents would love to raise their children in a home where the kids can be independent and enjoy life unhindered by society's conventional rules and expectations… and many parents would agree that if their kids were in such a home, they would greatly prefer not to be there with them.
Because most parents believe that kids need some boundaries, for things like socialisation and safety, and it's their job to set them.
But Gemma and Lewis Rawnsley of Hebden Bridge, West Yorkshire, feel very differently. Gemma has told The Mirror they don't believe in boundaries in their home.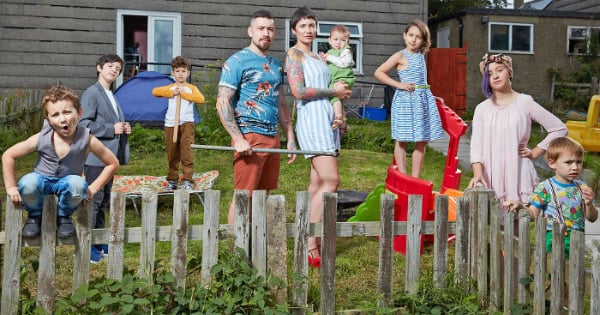 The Rawnsleys are proud parents of Skye, 13, Finlay, 12, Phoenix, nine, Pearl, eight, Hunter, five, Zephyr, three, and Woolf, one, who are home-schooled.
Their approach, which is the subject of new UK TV show, Feral Families, takes free-range parenting to the extreme. The only rules being they don't lie to, harm, or offend anyone else. The children are permitted to cut and dye their hair, tattoo and pierce their bodies, dictate their diets (ice cream at midnight), bedtimes (or lack thereof) and wardrobes, and to use profanities.