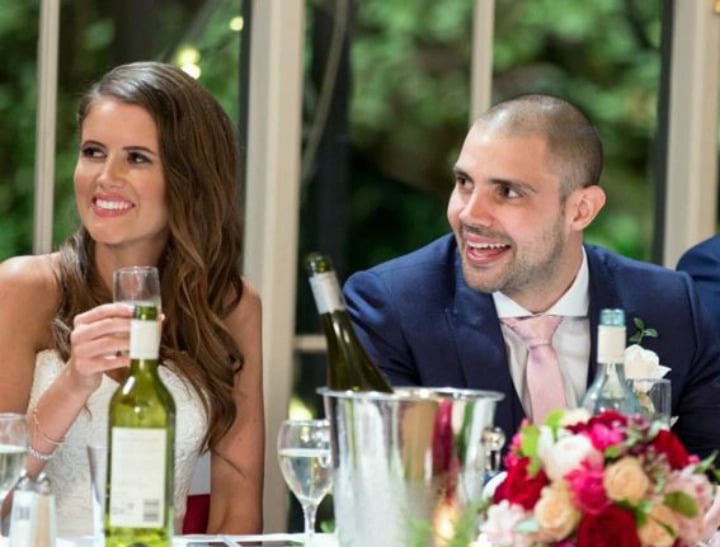 Look. Sometimes it can get really exhausting being a feminist. Fighting the patriarchy takes its toll.
When we discussed Married at First Sight in the office this morning, there were passionate frustrations over the portrayal of single females. They're depicted as crazy, unstable, over-emotional trainwrecks who need a man to 'calm them', or 'be patient with them'. They're encouraged to look inside themselves for the real reason they're single. Low self-esteem? Having barriers up? Not being open to love?
There is absolutely no doubt that the premise of Married at First Sight is inherently flawed – and not only when it comes to gender equality. At a time where same-sex couples cannot legally be married in Australia, it seems completely absurd to revel in a reality show where heterosexual couples get 'married' for our entertainment.
So last night, as the second season of the 'social experiment' debuted, viewers responded with understandable outrage.
Sorry, but #marriedatfirstsight is not only a ridiculous concept but insulting to the marriage equality debate.

— Anthony Callea (@AnthonyCallea) April 4, 2016
Obviously, it's entirely hetero-normative and sexist, with a pinch of ageism thrown in for good measure.
But you know what? Last night I took a well-earned break from feminism. Because as a woman, this show has everything I've been socialised to love.
Wedding dresses.
Bitchy friends and/or sisters giving unwarranted opinions about wedding dresses.
Single farmers.
Drama.
And, of course, love.
I just love...love.
So, despite the myriad of problems with Married at First Sight, let's recap on my FAVOURITE fairy tale moments from last night's episode, because the part of my brain that temporarily forgot about political correctness/justice/equality, had a really enjoyable viewing experience.
Erin is transformed from ordinary girl into a gorgeous Princess. 
It's exactly like a fairy tale. Getting ready for her wedding, Erin says to her makeup artist, "I look like a foot right now so someone fix this." She also makes it clear that she wants cake face.
The makeup artists are exactly like the mice that get Cinderella ready for the ball, and just like that, she goes from foot to stunning bride.
Christie dreams of her Prince Charming. 
Christie is ready to settle down. She's been single for two and a half years, and knows the exact qualities she's looking for in a partner. "Humour. Looks. Respect. Values. Physical attraction. Family. Positivity. Ambitions. Balance," she says, before laughing and conceding that maybe this list is why she's still single.
BUT ALAS. This is a fairy tale damnit. So the Princess always pictures a particular guy that she doesn't think actually exists, until, you know, he does.
"I have an image of this person in my head," she told the camera. "And I'm picking a European sort of background. I think he's good looking. I think he's sort of worldy as well."
It's awkward because we know he isn't of a European background, but we also know that these guys got matched by SCIENCE*, so of course they'll fall for each other.
*There isn't any real science involved.
Erin has a panic attack, which can only be treated by true loves first kiss. 
The psychologist's on this show need to spend significantly less time worrying about single's sniffing pheromones on each other's clothing and more time worrying about Erin's heightened anxiety.
In the lead-up to her trip down the aisle, Erin starts freaking out. I can't imagine why. It's not like she's marrying a complete stranger on national TV in front of all her family and friends. She develops a nervous rash. I also develop a nervous rash.
But then, she sees him. Bryce. A business analyst. I can't remember him saying a word on the show last night - but he didn't have to. He just has kind eyes.
Straight away she loves him. Is love at first sight a real thing? Probably not. It's probably entirely superficial. But I DON'T CARE. They hold hands as they say their vows. They kiss. She tells the camera that she just feels calm around him. She wants to stop talking to the camera and go back to him. It's so romantic.
Christie gets seasick, and Mark rescues her.
If Erin and Bryce experienced love at first sight, Christie and Mark experience the exact opposite. Well, Christie did anyway. Mark loved her, she just wasn't too fond of him.
When she sees him, she gets really worried. There's no chemistry. She doesn't feel a spark. Essentially, considering they literally haven't spoken, she doesn't find his face that nice. But, as Beauty and the Beast taught us, love can blossom. And boy, does it blossom.
When Christie gets seasick, which was probably just a physiological reaction to realising you made a huge mistake, Bryce supports her. He sits with her and chats to her and is so incredibly sympathetic. 'Oh, I've been there', he says, to alleviate the awkwardness of her seasickness.
And then, it turns out he is really, really funny. Like, daggy funny. During his speech he says, "I know a lot of you have flown in from all over the country. So hopefully your arms aren't too tired."
Awww. I like him. He made a funny. And just as though a spell has been lifted, Christie falls in love.
So, my Monday evening break from feminism was quite relaxing. It was like reading my favourite fairy tales all over again, except with more references to looking like a foot, less talking animals, and a considerably smaller likelihood of living 'happily ever after'.
Of course, the biggest difference between the debut of  Married at First Sight and our favourite childhood fairy tales is that, as adults, we're hopefully able to deconstruct the deeply embedded and problematic constructs that inform the narrative. While I was able to take a short break from feminism, it didn't last long. Because you can't help but notice the very real implications of our ideas around gender and marriage.
I just hope throughout the season, viewers will remember that Married at First Sight is absolutely nothing more than an over-produced fairy tale.
Watch the trailer for Married at First Sight here: