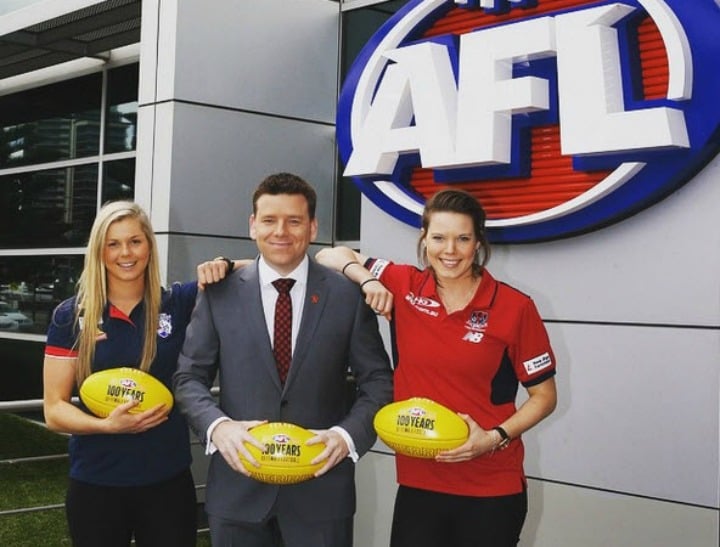 Great news for women in AFL.
Something significant happened in football last week. It wasn't that Mick Malthouse lost his job or the grand final rematch between Sydney and Hawks.
It was some amazing woman playing the game at the MCG.
The clash was between the Western Bulldogs and Melbourne Demons and was one of two games going to be played as a curtain raiser to the Men's game this year.
The match was live streamed from the AFL app, and the second game (being played in August) is expected to be broadcast on Channel Seven. If it goes ahead, this will be a huge step forward for the women's AFL league.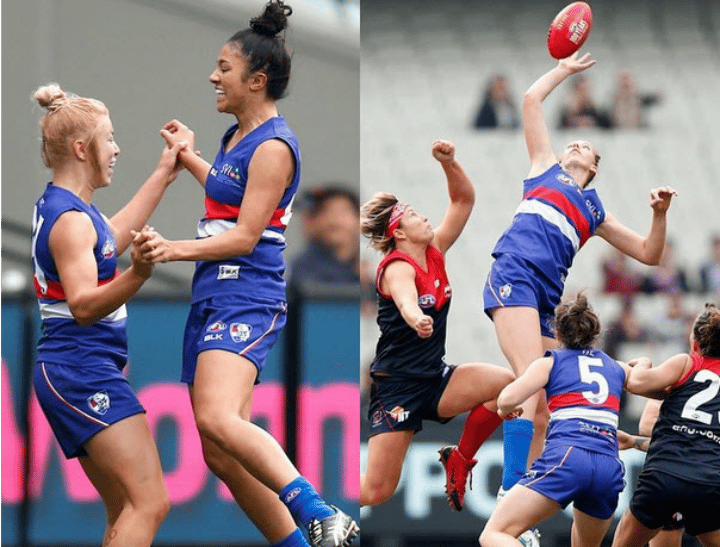 Melbourne won the game, beating the Western Bulldogs by eight points on Sunday afternoon. It was the third consecutive year that Melbourne have won.
"Darcy Vescio and Moanna Hope kicked two goals each for the Bulldogs, while the Demons had singles to Tayla Harris, Emma Swanson, Kiara Bowers and Kira Phillips," the ABC wrote.
Related: For 5 reasons why women should watch AFL, click here.
The two women's teams will go head-to-head again on August 16 at Docklands in Melbourne.
I spoke to the Western Bulldogs captain, Steph Chiocci about the game, women's AFL and where she sees it going in the next few years. Here's what she had to say.
Tell me your top two highlights from the game on the weekend?
SC: Running out on to the field and being named captain was a real buzz personally.
And the way we played was a highlight. We knew what our goals were from the last couple of years and implemented what we needed to. We didn't get the result we wanted, but we played really well.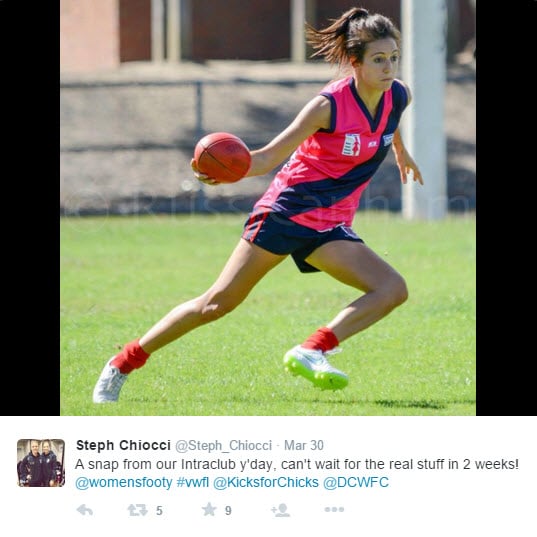 Who would you say was the Most Valuable Player (MVP) for your team?
SC: Meg Hutchens would've been our Most Valuable Player. The way she led in the back line and took eight contested marks. Cara was obviously best on ground, but our MVP was definitely Meg – she stood strong and was a pleasure to play with.
More on women's football: This is why every football team should hire a female coach.
What are the two curtain raiser games going to do for women's AFL in Australia?
SC: Hopefully they'll continue to boost our profile. There's lots of people behind the scenes trying to get our brand out there, so if we can continue to get participants that will be good. At the moment there's 195, 000 participants Australia wide and we're trying to increase the numbers. Hopefully if more people are watching our games, they'll see that we're serious about the league.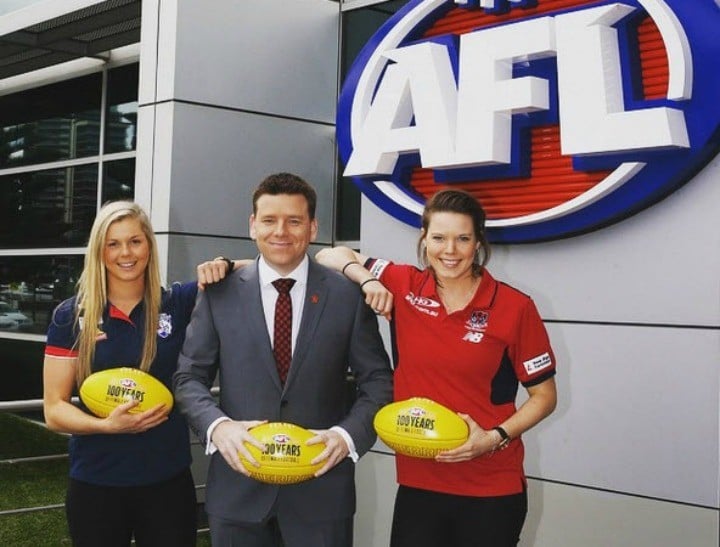 What was it like playing at the MCG on Sunday?
SC: It can't be described. The feeling when you walk out there is something like nothing else. There's a real buzz around the place. And you're in special and unique company. The stand makes it feel so enormous. It was really special and something I'll always remember.
More on women's football in Australia: They've won seven consecutive world cup event. But we bet you haven't heard of them.
The live streaming on the AFL app from the weekend is great, but what do you think Channel Seven's broadcast in August will do for women's AFL?
SC: We're really pleased that Channel Seven are on board. It comes back down to exposure, and we want people to take note of our sport because we love it as much as the boys do and we play just as hard.
If more people see us play and see us in action that's a good starting point for us. In the future we hope to have a national league. Hopefully more people will tune in and that will help us to get there.
Where do you see women's AFL going in the next year?
SC: Ideally we'll have a national league up by 2017. We need to increase the number of players at the senior level, we currently have 195, 000 female participants in AFL and we need to increase that. I have no doubt with all the youth programs and kids programs we have running that eventually that'll occur. A national league is the aim and I believe we'll get there.
And in other sporting news…
Female cricketers are expected to get a significant pay rise over the next year after a funding boost came last week. Top women's cricketers could earn up to $85, 000. The total women's fund has gone up by 36 per cent, to $2.26 million in the last year. There has been a $600, 000 investment from Cricket Australia and the state and territory associations, which means the best state players will be able to over double their current payments. Amazing news for female cricketers.
Samantha Stosur is the last Australian standing in the French Open women's singles. She extended her winning streak on clay court to seven matches. She beat Frenchwoman, Amandine Hesse on Wednesday convincingly with a 6-0 6-1 win. Good luck to Stosur in her next match.
Charlotte Caslick has been shortlisted for the top personal honour in the Women's Sevens Rugby. It's the second consecutive year that the Sevens star has been shortlisted. There are four nominees that represent three different countries for the World Rugby Women's Sevens Player of the Year Award. They were all announced on Thursday. Caslick is 20 years old and from Queensland and was named alongside women from Russia and New Zealand. The winner will be revealed on November 1. Good luck to the Aussie.
What sport have you been playing or watching this week?