Reading. It's the thing we all want to do more of, but often never get around to.
For those who love nothing more than getting stuck into a good read, finding your next book can come with some trepidation.
Will it be good? Am I going to spend twenty-something dollars only to struggle through the first chapter?
The commitment issues are real – which is why so many of us turn to our old faithfuls, the books so well loved and worn that the spines are destroyed and pages dog earned and stained with water/coffee/snacks.
That's what makes Dymocks' top 101 survey is so good, because it takes all the guess work and uncertainty out of choosing your literary hit list.
Voted for and decided by the nation, the survey reveals Australia's top 101 favourite reads, and the results say a lot about what we're thinking and feeling.
Dymocks' Fiction Buyer, Ali Hammond has seen a resurgence of Australian authors in this years' top 101, which is indicative of the appeal of art imitating life.
"Basically we like reading about ourselves," explains Ali, adding "we gravitate towards Australian stories because there is something fascinating & compelling in reading about a landscape and recognising it as part of your own life, or reading a character and feeling like they could be somebody that you know."
"While this idea of recognising ourselves and our lives in the books is definitely part of it, I also think that Aussie authors are at the top of their game and are writing brilliant, interesting stories that trump what we are seeing from overseas & I think the list reflects that."
Aside from our dedication to supporting homegrown talent, the findings from this year's survey also speak to the issues that matter to us right now as a society.
"Every year the list is diverse and a little bit surprising, but this year particularly feels like it is reflecting contemporary lives & issues," says Ali.
"Many of the books in this list tackle the issues we are all seeing in our news feeds and discussing at dinner parties with friends - Clementine Fords' tackles feminist issues in her book Fight like a Girl and Stan Grant's Talking to My Country meditates on issues of race, culture and national identity.
"We've also recently seen a spike in sales of dystopian classic Nineteen Eighty-Four (no. 10) which has regained cultural currency since Trump's inauguration."
Providing a unique snapshot into what Australian's are thinking about, here are the top 10 must-reads from the 101 list: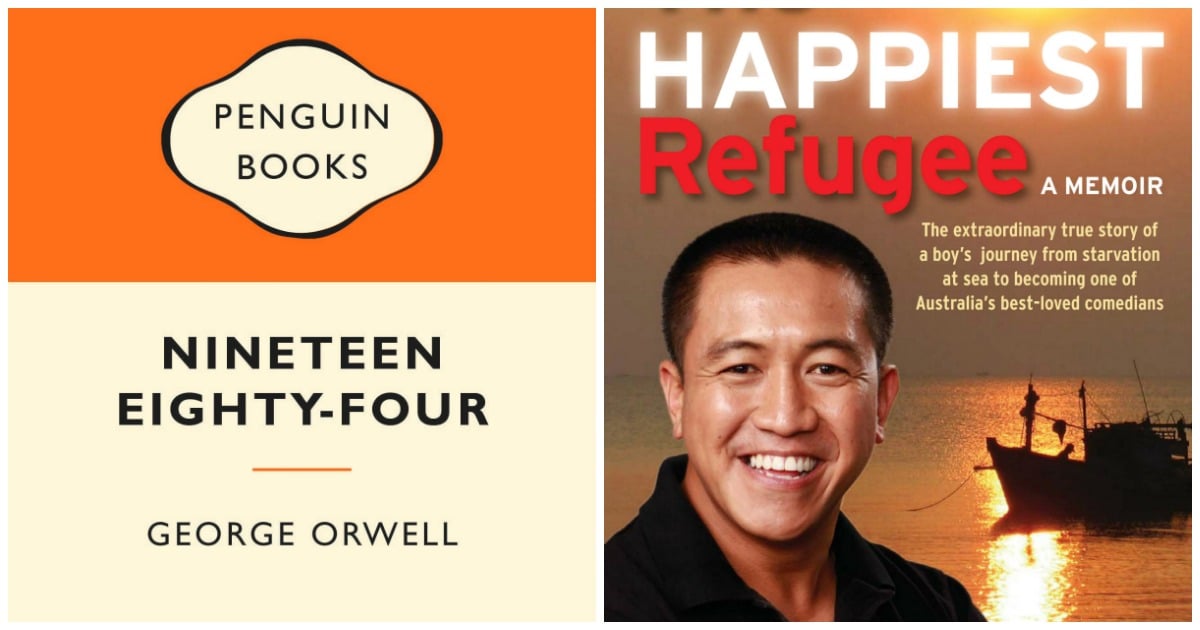 10. Nineteen Eighty-Four by George Orwell
One of the most widely read books in the world, Orwell's terrifying vision of life under a totalitarian regime is as relevant today as when it was first published.
9. The Happiest Refugee by Anh Do
The extraordinary true story of a boy's journey from starvation at sea to becoming one of Australia's best-loved comedians.
8. The Rosie Project by Graeme Simsion
This hilarious, feel-good novel is narrated by an oddly charming and socially challenged genetics professor on an unusual quest: to find out if he is capable of true love.
7. Me Before You by JoJo Moyes
Me Before You brings to life two people who couldn't have less in common—a heartbreakingly romantic novel that asks, What do you do when making the person you love happy also means breaking your own heart?
6. Burial Rites by Hannah Kent
This brilliant literary debut, inspired by a true story: the final days of a young woman accused of murder in Iceland in 1829.Award winning historical literature at its finest.
5. The Light Between Oceans by ML Stedman
A couple living in isolation on an island make a life changing decision that will devastate their lives. This mesmerising Australian novel has been a best-seller around the world.
4. The Harry Potter series by JK Rowling
Follows the amazing magical adventures of the boy wizard, Harry Potter, in the bestselling book series of all time.
3. The Girl on the Train by Paula Hawkins
The debut psychological thriller that will forever change the way you look at other people's lives.
2. The Book Thief by Markus Zusak
The extraordinary #1"New York Times" bestseller, Markus Zusak's unforgettable story is about the ability of books to feed the soul.
1. All the Light We Cannot See by Anthony Doerr
Winner of the 2015 Pulitzer Prize for Fiction. The lives of two children engulfed in WWII horror collide in this hauntingly beautiful novel. A word of mouth bestseller that any reader will love.
Did your favourite book make the list?