How was your morning?
I ask, because mine is usually rubbish. My family of four is always in a hurry and always running 20 minutes behind.
Someone's usually crying because someone else pulled their hair/punched them/called them a poo.
Someone's usually refusing to eat something. Someone else can't find a singular shoe (very often, that's me).
I complain about it a lot.
Trish Scott doesn't complain about her mornings. She just spells her routine out to me, matter of factly.
Her family – Trish, husband Rob and their three daughters Ruby, Heidi and Eliza – gets up around 4am.
They go out in the dark to load hay into their ute. The girls know how to do it with ropes, because they don't have one of those forklifts on their truck. If Rob is out shearing – work which is getting scarcer as the sheep keep dying – then Eliza, who's 10, will drive. Ruby, 13, will deal with spreading the feed off the back. Trish and Heidi are up the front, trying to move the starving stock away from the truck so they can keep feeding, keep moving.
"Then we get back home," says Trish. "Into their school uniforms, I put a piece of toast in their mouths, grab the school bags and catch the school bus at 8.30am."
Trish and her family live on a property in Yeoval, in New South Wales' central west. It's sort of between Dubbo and Orange, in as much as anywhere is near anywhere else out there.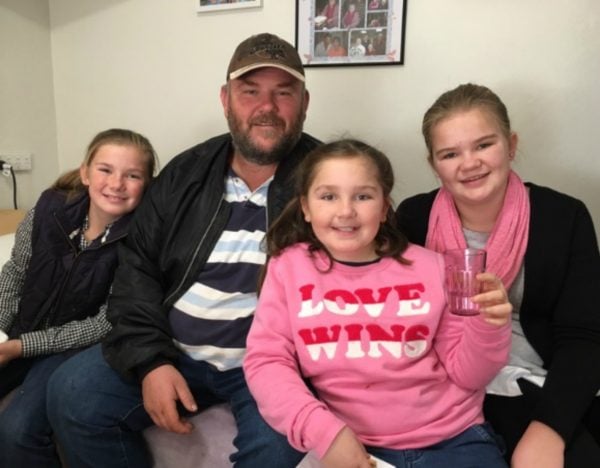 Trish says her kids aren't the only ones who are turning up for school after a full day's work.
"I'm seeing kids that are turning up to school really tired and kids who are saying, 'I really want to stay home to help Mum and Dad'," she says. "These kids are as worried as the parents are and as much as we try to protect them... We don't talk about [what will happen] when the hay and the grain runs out."