Irish mum Kim Constable has always believed in the benefits of co-sleeping.
When each of her four children were born, she would settle the new baby in bed with her and her husband, Ryan. It was a system that she says worked well for everyone involved – that is, until her older children, who were kicked out of their parents' bed to make room for a new baby, started complaining.
"As more children came along, they wanted to sleep in with us, too. When the older ones moved out and a younger one moved in, they would come back and say that's not fair – we want to be in the big bed with you all, too," Constable told the Belfast Telegraph. 
Of course, with two parents and four kids, there simply wasn't enough room for everyone – but instead of deciding it was impossible, Kim and Ryan decided to build a bed big enough for the whole family.
"In the end we had a king size bed, a super king and a single all joined together to make one huge 18ft bed (5.4 metres) which was big enough for everyone," she says.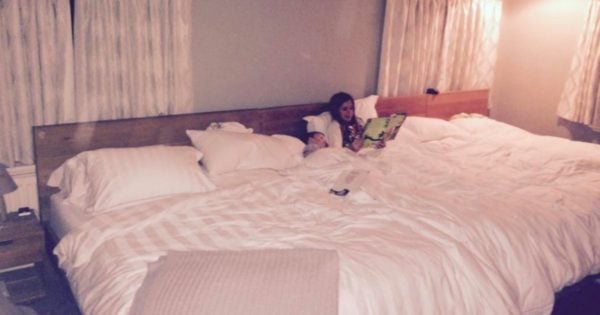 "We were lucky as when we moved house we had bought all our bedroom furniture from the same manufacturer so it fitted together well."
For the past two years, Corey, 11, Kai, 9, Maya, 6, and Jack, 5,  have fallen asleep in the same giant bed  as their parents every night. The whole family heads to bed about 10-11pm, and will snuggle in bed reading together until they fall asleep.
As for what on earth the couple do when they want to have sex, Kim says she and Ryan have developed a system.
"Ryan and I often sleep together in the spare room, at least for part of the night, before someone will end up in the middle of us or I will go and get into the big bed.
"And we are very honest with the children and will just say mummy and daddy are going for 'a snuggle' now and we will be in with you in a while."