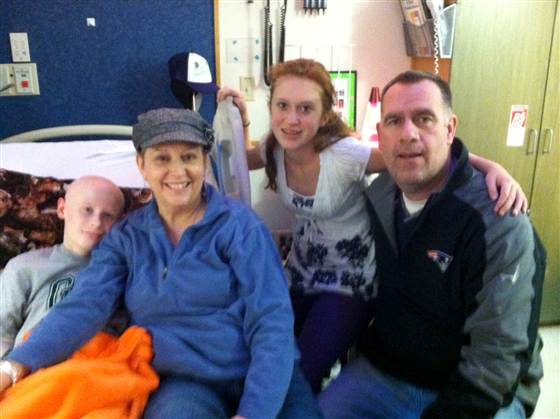 For the Perry family, Christmas this year will be a little different.
The festivities will not be held at grandma's house, or at home, but in a hospital room where Owen Perry, 12, is receiving treatment for acute myeloid leukemia.
By the middle of January, Owen, a 7th grader with a fondness for practical jokes, will have completed his fourth and final round of chemotherapy. With his doctor's permission, Owen will return home, where the family plans to celebrate a second Christmas by cooking a big feast and opening more presents.
"We'll make a new tradition for just this year," his mother Karen told TODAY.com.
That celebration will also mark an important moment for Karen. In July, a few months before her son was diagnosed with leukemia, Karen, 48, was told that she had ovarian cancer. She has just finished 18 weeks of chemotherapy.
Though Karen must wait three months to learn whether her cancer is in remission, Owen's expected return home in January will finally bring the family of four together under one roof again for the first time in several months.
Karen and her husband Brian, 48, have taken turns driving an hour every day to stay with Owen at the Dana-Farber/Boston Children's Cancer and Blood Disorders Center, where he is receiving in-patient treatment.
"Everything has basically been turned upside down," said Brian. That includes the life of the couple's 13-year-old daughter Julia, who has sometimes stayed with friends and family when Brian and Karen couldn't be home.
There are many things the family misses about their lives before cancer. Owen wishes he could play more video games, eat lunch with his friends at school, and get back on the basketball court with his team. Karen longs to play golf and join her friends for a girls' night out. Brian would love for the family to gather around the dinner table again.