Mumsnet user Poppy was delighted to received a "huge, very eye-catching" engagement ring when her fiancé proposed two years ago.
The now-married woman has often been on the receiving end of glowing comments about the ring; friends have said "it's two carat at least" and gushed about what the cost must have been, while her husband has "made comments about how much it set him back."
But only this month, at a dinner with her friends, Poppy realised something wasn't quite right.
"Last weekend I was at a dinner and a friend's husband, who's a jeweller, noticed the ring and made a huge fuss of it," the woman wrote.
"His wife compared her ring which was half the size and then they chatted quietly to each other, looking at the two rings, [before looking] at me with what I can only describe as mixture of sympathy and confusion as they gave it back."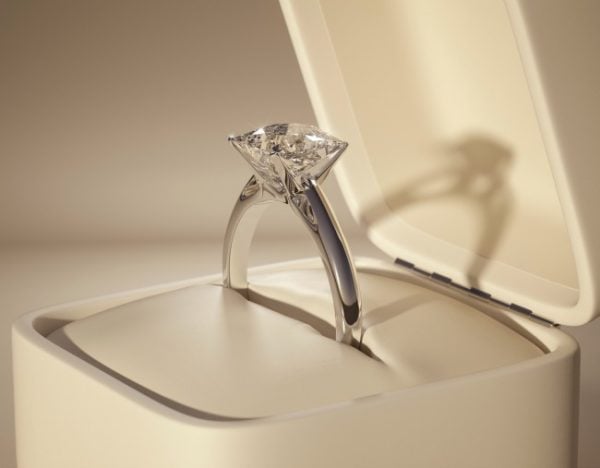 So, in a moment of weakness, Poppy decided to investigate.
"I probably shouldn't have done this but it had been playing on my mind... I know the name of the store so I just looked it up, and found the exact ring.
"It's cubic zirconia.
"It's still lovely and it is expensive although obviously not $15,000 expensive."
But here's the dilemma: Poppy doesn't care that the ring wasn't expensive. She and her partner have struggled with money for a while, and she has hated the thought that the thing sucked unnecessary funds from their savings.
What irks her is the attention her fake ring continues to get.
"I feel a bit uncomfortable now wearing a massive flashy attention-seeking fake ring and pretending it's a diamond. I don't know much about diamonds, obviously! However other people do and I feel a bit embarrassed to wear it now I know.
"I don't know how much my husband knows about jewellery, perhaps he saw it was sparkly and assumed it was a diamond or more likely he has lied about it this whole time. I have happily worn it for two years and I don't want to upset him or be ungrateful for what is still a lovely and expensive ring."
What should she do?
Coincidentally, it's a dilemma the Mamamia Out Loud team addressed this week.
You can listen to Mia Freedman, Jessie Stephens and Holly Wainwright discuss the trend of fake diamonds below.
Would they wear a cubic zirconia in place of a diamond?
"100 per cent" Jessie Stephens said. "I don't care at all - if someone looked at me and said, 'Oh, I have a diamond on my finger that's worth $50,000,' I'd think, well, that's a waste of money isn't it?"
Mia agreed.
"I wear fake diamonds every day," she said, adding that her husband Jason proposed to her with a gold band. "I don't speak diamond... my mum doesn't own any diamonds, it's like literally Swahili to me, I don't get it.
"I find the idea of wearing a huge amount of your income, your partner's income, and your combined wealth on your finger... crazy. I don't get it."
For Holly, who isn't married to her long-term partner, but would quite like something akin to an engagement ring, it's all about the story behind a piece of jewellery.
"I don't have jewellery really, but if I did I'd like antique jewellery. I like things that have a story and a history and a vibe to them, so I'm always trying to bully [my partner] into buying me a ring, an antique one. I don't want a new one, or a fake one - one that feels grounded and real."
What's your take - would you be upset to find out your diamond isn't a diamond at all?