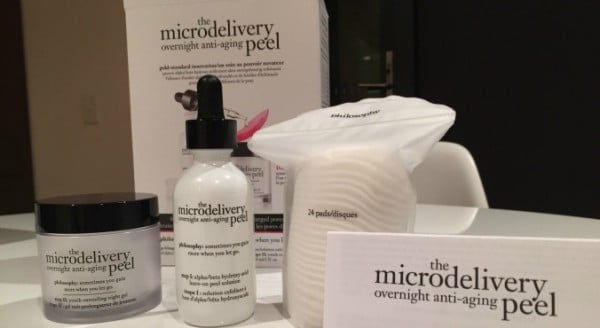 When I hear the words 'acid peel' instantly my mind imagines women being wheeled out of cosmetic surgeries, their faces fully bandaged to protect the red raw skin hidden from the eye. So I have to admit I was a little bit nervous about trying philosophy's new microdelivery overnight anti-aging peel.
Having previously looked into microdermabrasion and IPL to tackle dryness, fine lines and enlarged pores it made me think, why was I willing to consider blasting sand into my face at a million miles a second or using a laser, but say the word peel and I panic?
Doing a little more research, I realised I needn't be worried. It was just a matter of translation, peels are actually the American term for efficient exfoliators and philosophy are the market leaders in at home peels. They are significantly gentler on the skin than microdermabrasion and laser but offer similar results.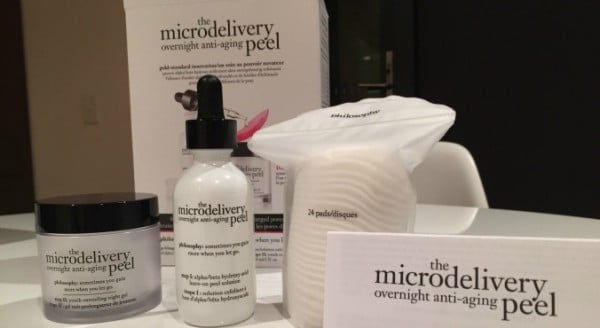 philosophy offer a number of peels, including the microdelivery peel, which has vitamin c/peptide crystals and lactic/salicylic acid activating gel. This is as close to microdermabrasion as you can get and tackles sun damage while smoothing and resurfacing the skin.
The microdelivery overnight anti-aging peel which tackles wrinkles, firmness and enlarged pores and the triple acid brightening peel that reduces the appearance of dark spots and discolouration.
It was time to bite the bullet and give it a go. The philosophy overnight anti-aging peel was the best choice for my skin concerns and works in two steps. Firstly, an alpha/beta hydroxy acid leave on solution (which sounds a lot scarier than it is) which is followed by a youth-extending night gel - both of which you leave on overnight. No skin recovery weekend required.