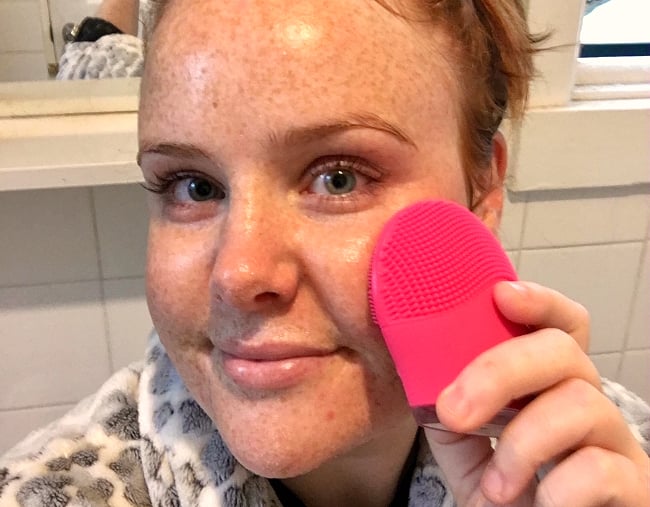 Warning: The following content is about to get a little bit… saucy.
I stumbled down the stairs this morning, my eyes still partially closed, clutching to one last minute of sleep.
Yes, bathroom's free, I thought as my bare feet hit the cold tiles. I brushed my teeth and stared at my face in the mirror for a really long time.
Then, I massaged my face with a wet, vibrating egg that looks a lot like another thing that vibrates.
Not my usual mid-week morning activity, but I digress.
Have you ever tried a cleansing brush? One of those space-aged contraptions with bristles that claims to give your face a truly deep clean?
Until I put the vibrating egg on my face, I hadn't ether.
So we're clear – the egg in question is the Illuminate Me Silicone Facial Cleansing Brush, $39.99.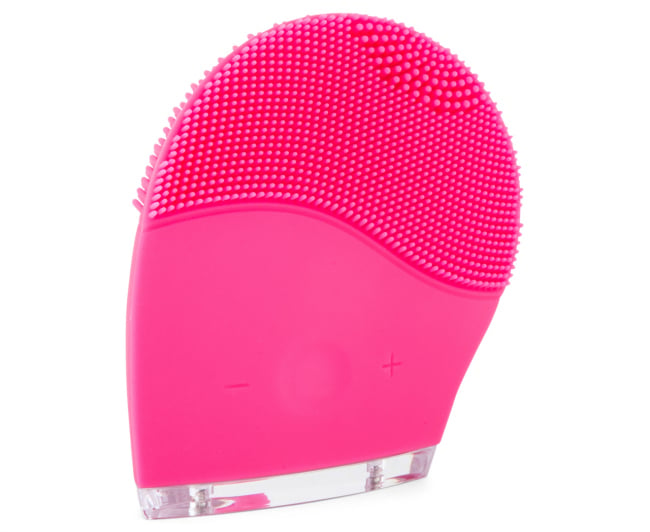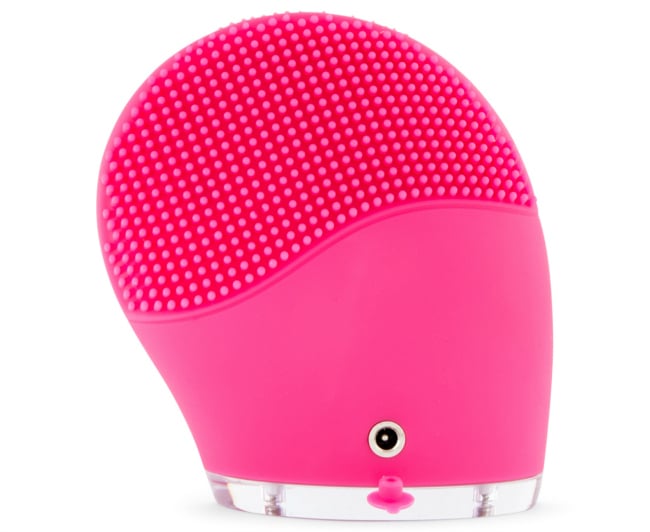 I've always been conservative... when it comes to skincare. Having suffered acne through my teens and observing redness spread across my sensitive skin at just a whiff of anything too complicated, I'm cautious about what goes on my face.
But lately, congestion around my chin area has been giving me grief, so I welcomed the opportunity to clean all that crap out.
The Illuminate Me Silicone Facial Cleansing Brush promises to: deeply cleanse your skin with silicone hairs that gently exfoliate to remove dirt and impurities, all whilst enhancing the absorption of skincare products, leaving your skin fresh, clean and feeling soft.
Sounds freaking fantastic, no? But does it work?
As mentioned above, I took the cleansing brush for a run around the block to find out.
Illuminate Me Silicone Facial Cleansing Brush features
Straight up, this cleansing brush looks like a vibrator. As in, something you'd rub against your downstairs.
Once you get past that, it's easy to be impressed by this vibrator sorry, cleansing brush's features.
The brush is made from completely waterproof, soft silicone and features different sized and shaped exfoliating hairs on each side.
The product's shape is practical and intuitive - the flat surfaces allow for forehead, cheek and chin cleansing, while the curved edge makes it easy to get into the sides of your nose a.k.a. where blackheads like to camp out.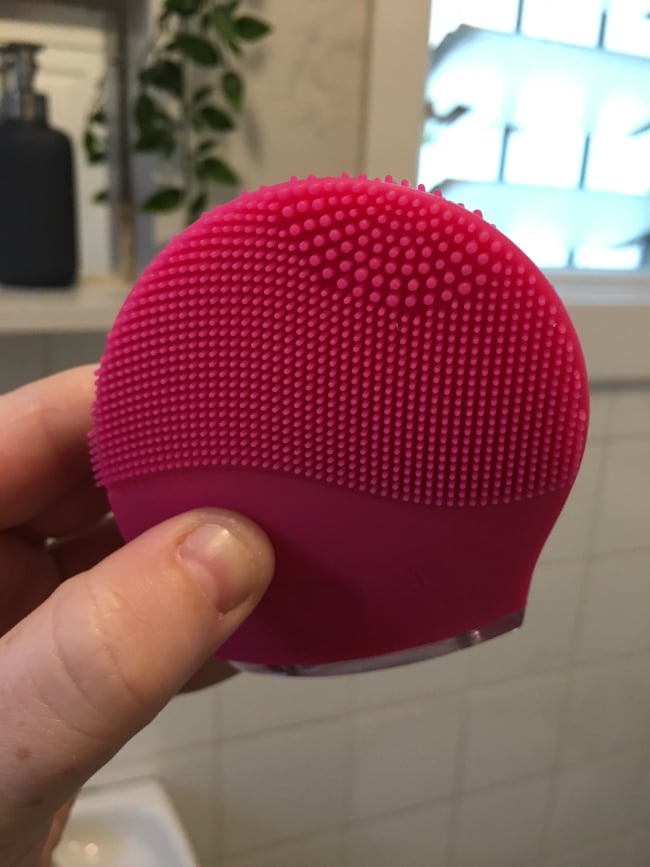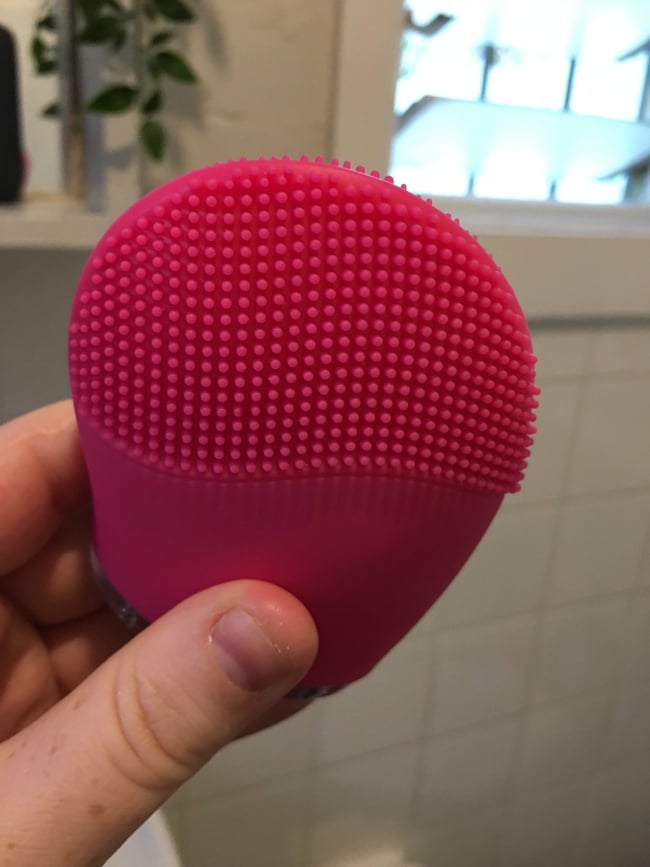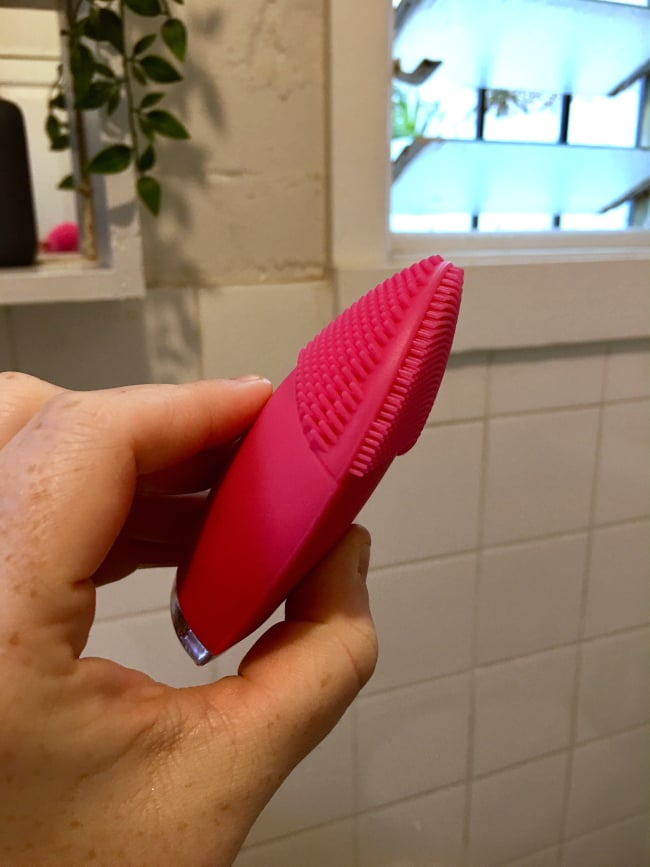 Now for the bit where it vibrates. The Illuminate Me Silicone Facial Cleansing Brush has several vibration speeds which are controlled by easy-access touch buttons so you can decrease and increase frequency to suit the different parts of your face.
And unlike pesky sex toys - no batteries! This guy can be charged with the enclosed USB cord in your computer or iPhone charger port.
How to use the Illuminate Me Silicone Facial Cleansing Brush
Yes, it looks techy but basically, you can use this cleansing brush while you're half asleep. It's that easy.
Whether you're in the shower or over the bathroom basin, start out by wetting your face and applying the normal amount of cleanser you usually would (avoiding the eye area as you do need to semi see what you're doing).
Then rinse the cleansing brush under the tap, turn on by pressing the 'on' button and select your speed. From there, it's a matter of massaging your face with the vibrating egg in circular motions, focusing on each area of your face separately.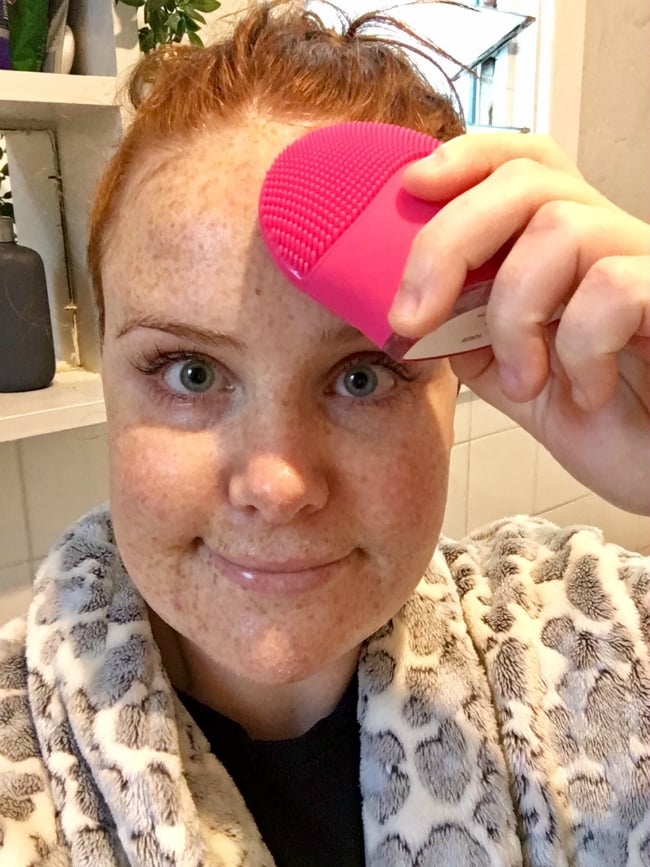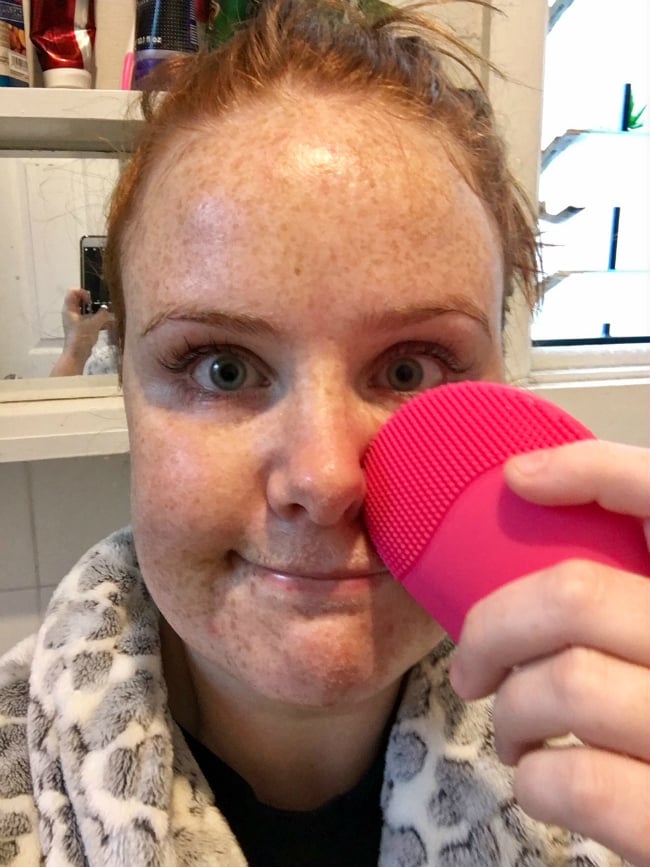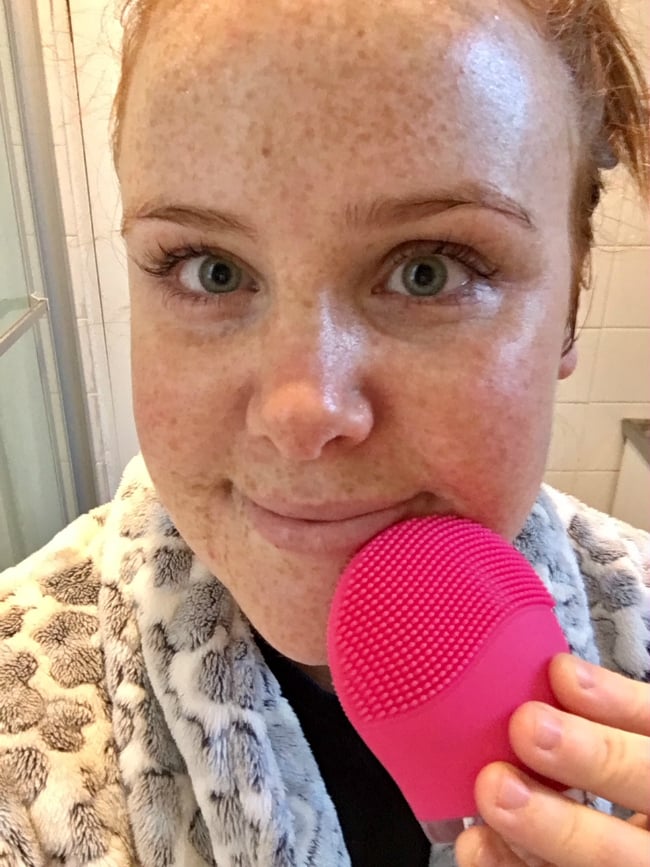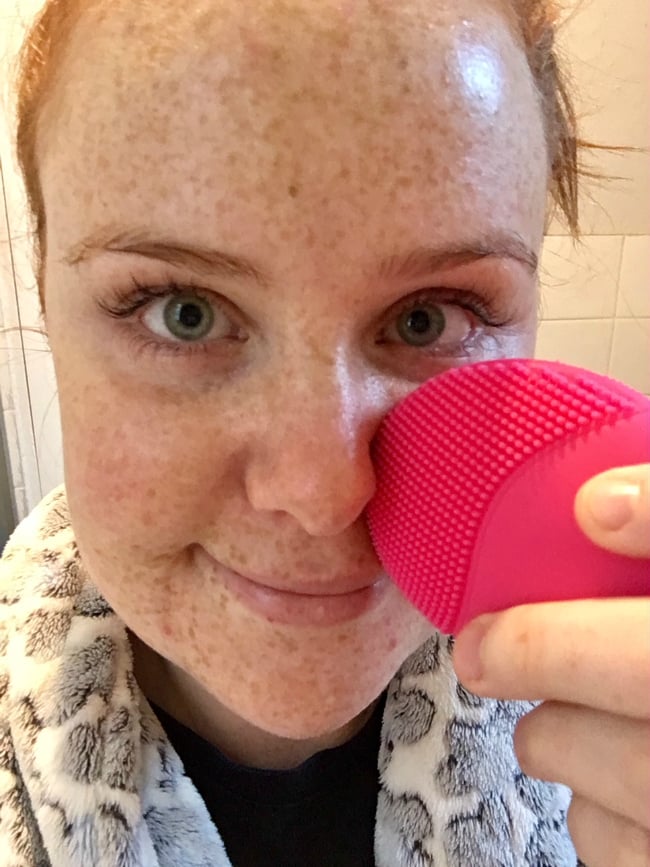 The whole process should take around one to two minutes, depending how much extra time you want to put into problem areas.
After you're done, rinse off your cleanser and you're done.
You can clean your cleansing brush by washing with a baby shampoo or anti-bacterial soap every couple of uses to avoid bacterial growth.
Does the Illuminate Me Silicone Facial Cleansing Brush work?
This cleansing brush does a lot of things.
It vibrates. It makes you feel like a bit of a dill. It might also leave housemates/partners wondering what you're doing with the bathroom door closed.
But the best bit is how it made my skin feel.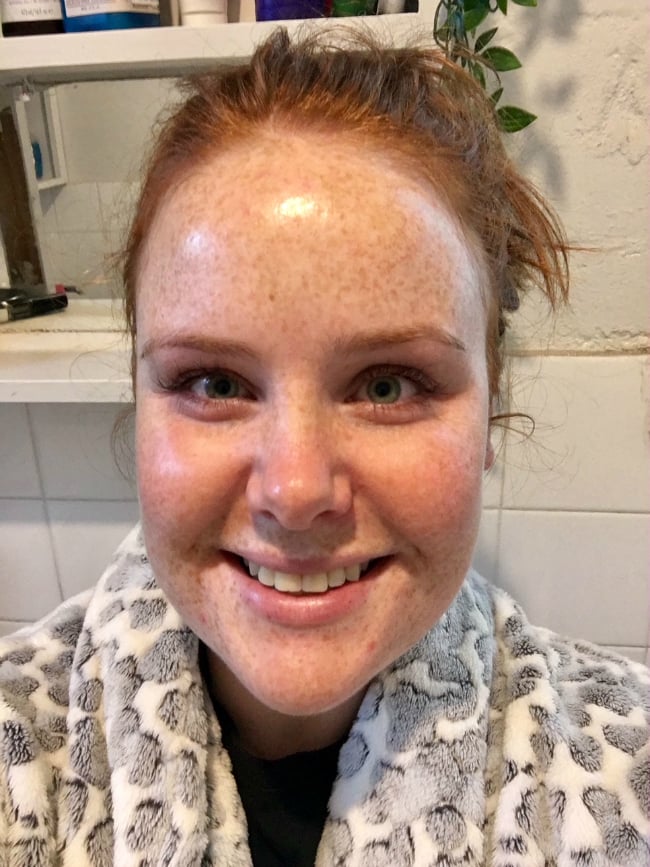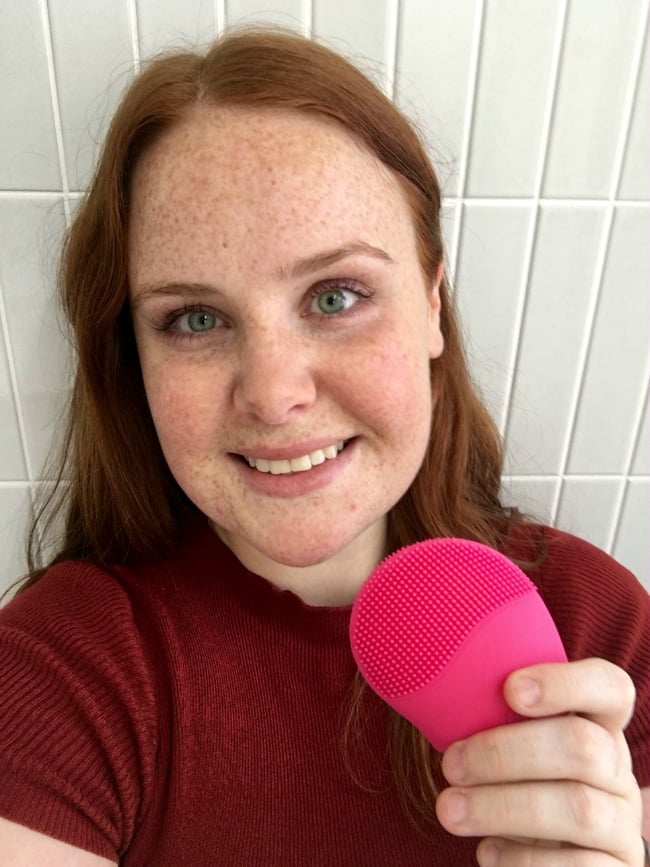 The thing I noticed most, even above it's cleansing ability, was how much of a difference massaging my face with the product helped de-puff my sleepy face.
My face looked significantly less puffy - especially under my eyes where I most see fluid retention - and getting that blood and fluid circulation is almost enough of a reason to keep the cleansing brush in my bathroom.
As for how it cleaned my skin - my skin felt soft immediately after use. For me, less is more when it come to skincare tools, so I'd add this to my 'once a week' stash of products.
Above all else, it feels really good. And all jokes aside, there's no reason you couldn't use it as a vibrator too. Bargain.
Have you tried the Illuminate Me Silicone Facial Cleansing Brush or any like it? Do you find it made a difference to your skin?