Who knew getting your eyeball tattooed could go wrong?
One woman has found out the hard way, when, as a result of the procedure that sees people have ink injected into their eye she ended up with a painful, swollen, eye that leaked purple liquid.
Canadain model Catt Gallinger has (hopefully only temporarily) lost her sight in that eye as a result of the cosmetic procedure, called a sclera tattoo, which is designed to dye the whites in people's eyes.
Unsurprisingly, she's described undergoing the procedure as a "massive mistake", posting a warning to others along with horrific photos on Facebook.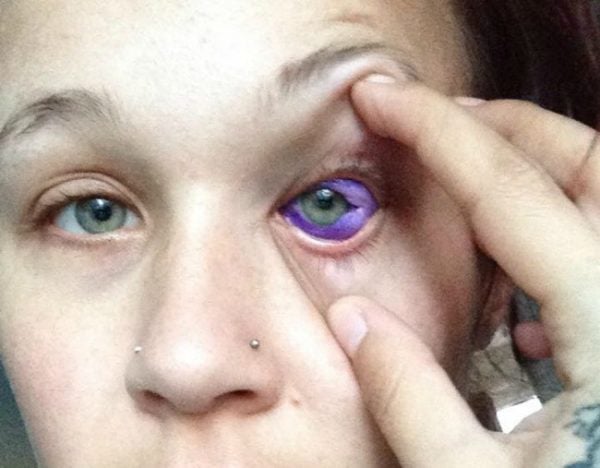 "I am NOT sharing this with you to cause trouble, I am sharing this to warn you to research who you get your procedures by as well as how the procedure should be properly done," she wrote.
"As it stands I will have to see a specialist and am at risk of being blind if it doesn't get corrected."
Gallinger said her complications were a result of her tattooist's poor technique and not anything she had done afterwards, urging others to "be cautious" and chose the person performing a procedure on you very carefully.
"I don't want this to happen to anyone else."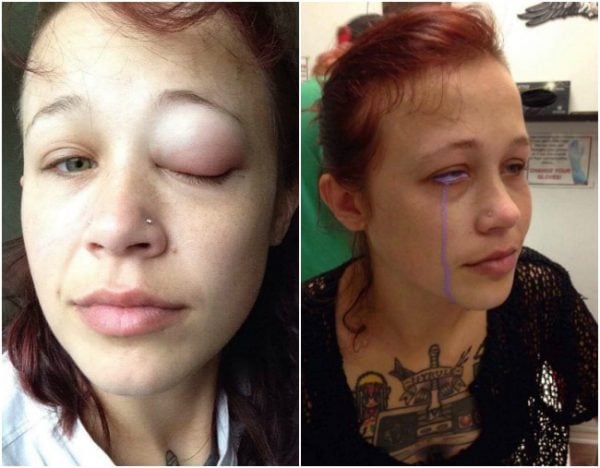 It's wise advice that not only people considering undergoing eye tattoos should follow.
Procedures like filler injections can also carry huge, life-altering risks with them if not performed properly by an experienced medical professional.
Australian Society of Plastic Surgeons president Professor Mark Ashton told Mamamia that consumers need to be wary as, worldwide, there have been more than 100 cases of patients going blind as a result of a rare complication.
Dr Ashton explained that if accidentally injected into a facial artery, the filler could then flow through straight to the eye and block blood supply to the retina – causing it to die.
If you are considering getting a cosmetic filler, make sure you talk to the medical professional doing the injecting before the procedure to ensure you're confident in their knowledge and experience, he said.
"If you go to a clinic and you can't see evidence of appropriate and significant training or if they're not able to explain to you about the vascular anatomy of the face and how they're going to prevent the filler complication... then I certainly wouldn't risk having fillers in that facility."
The award-winning podcast Mamamia Out Loud is doing their first live show. There will be laughs, disagreements and you can meet the hosts afterwards! We're also donating $5 of every ticket price to Share The Dignity so grab your friends and come along to share the love and laughs, get your tickets here.