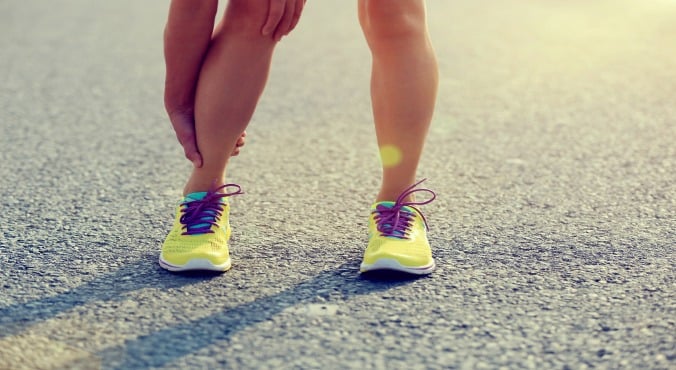 Image: iStock. This post may be triggering to some readers.
This essay offers an in-depth look at my eating disorder. Please keep your own recovery and/or sensitivities in mind.
Suffering is revered. Pain is praised. The more you endure, the more you are.
I broke my leg the way you fall asleep: slowly, then all at once.
I was running when it broke (or, more aptly, when I broke it).
I didn't fall. Nothing fell on me — it just broke.
I didn't know it was broken. As far I knew, it was just hurt. Shin splint. Bruising. Strain. Something unlike broken.
I kept running — for a while, two months maybe. I ran on it through pain, because "No pain, no gain" — or something like that.
In my case, I "gained" a broken leg.
I went to the doctor finally, after the swelling wouldn't subside, the pain wouldn't relent. He said he didn't know what it was, but it wasn't broken: Broken legs hurt; you don't run on a broken leg.
Unless you do.
He sent me for an X-ray.
When I saw the X-ray, and the break, I cried. I cried hard — not because my leg was swollen and painful and broken, but because I didn't want to stop running. My devastation seemed unwarranted to the people around me. The sinking depression, the tears, all of this spectacle: unnecessary, dramatic. (Christine Anu talks about body image to Mamamia TV. Post continues after video.)
In July 2008, I weighed 187 pounds. When I realised I weighed 187 pounds (I guess it hadn't occurred to me before), I panicked and stopped eating the next day.
I started a weight loss program. They called it "point counting." They called it "not a diet — a lifestyle."?
In August, three weeks before my 34th birthday, I got up before the sun and walked two miles.
I did this every day. About a week after I started walking two miles a day, I realised that if I ran the same amount of time that I walked, I would burn more calories.
So that's what I did. I started running.
Aside from three forced PE tests in high school, and two in junior high (and that time my best friend Staci and I played ding-dong-ditch), I had never run before in my life.
I couldn't run at first, not more than a minute at a time, not without my body aching, cramping, screaming.
So I did what my lungs and muscles would allow — just shy of collapse. Walk one minute. Run one minute. And so on. Every day I added 15 seconds to the amount of time I was running, every day more distance, more time.