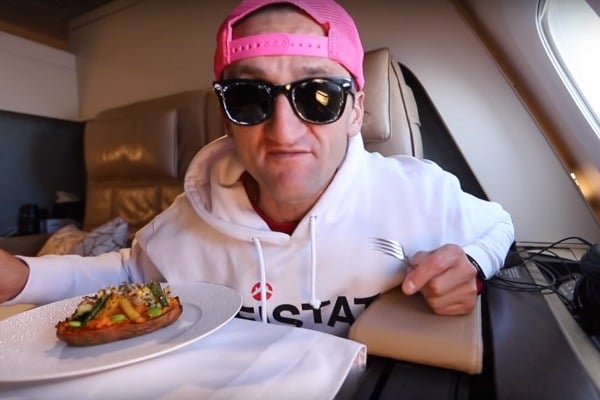 I think we can all agree that long haul flights… suck.
From limited legroom to the struggle of trying to get to sleep to the, erm, interesting in-flight meals, it's never a fun time.
Well, unless you've got $100,000 to spare.
US YouTuber Casey Neistat recently had the chance to fly from Abu Dhabi to New York on Etihad's A380 The Residence, which happens to be the world's most expensive plane ticket at AU$99,500.
Watch a snippet from Casey Neistat's YouTube video below. Post continues after video.
Posting a video of his experience to YouTube last week, the 38-year-old described the airline seat as "borderline ridiculous".
And honestly, he's not wrong.
The private, indulgent plane seat, which is located at the pointy end of the plane, includes a living room with a two-seat sofa, a bedroom, a full bathroom with a shower, a personal butler and more.
In his video about the plane seat, Neistat shared his entire experience on the 14-hour flight, which began when the entrepreneur was delivered a personalised, signed message from the pilot.