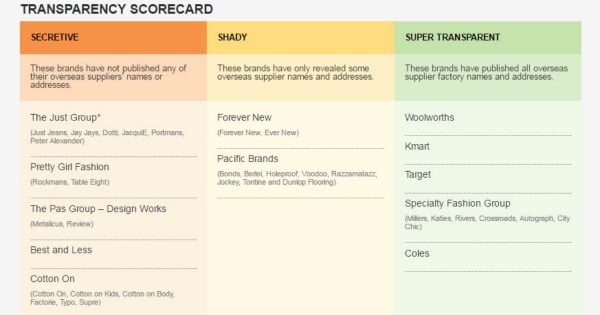 You know when you're out shopping for a bargain and you think, 'geez, that's too good to be true'? Well, that's probably because it is.
Three years ago the world watched in horror as the bodies of more than 1,000 workers were dragged from a collapsed Bangladeshi garment factory. Thousands more were injured and all had been working in unsafe conditions.
The thing is, we know exactly why those people were there and why they died. Because people like us continue to demand "affordable" fashion.
The visible tragedy of Rana Plaza meant we couldn't keep ignoring the human cost of so-called fast fashion. It also meant companies had to start making more of an effort to ensure the safety of the workers making their clothes.
A new report, ranks some of the most popular Australian brands on their attempts to improve conditions in foreign factories, grading them A to F.
A few were named and shamed on ABC's 7.30 program last night (post continues after video):
Here's how the rest went from worst to best.
F:

Factory X (Dangerfield, Princess Highway, Claude Maus), General Pants, Brand Collective (Hush Puppies, Volleys, Grosby), Seed Heritage and Roger David.

D- to D+:

Lorna Jane, Macpac, Forever 21, Best & Less, Oroton, Mink Pink, Valley Girl, Colorado, Victoria's Secret, Pumpkin Patch and Diana Ferrari.

C- to C+:

Big W, Aldi, ASOS, Nike, Myer, Abercrombie & Fitch, Just Group (Just Jeans, Jay Jays, Peter Alexander), Bardot, Tree of Life, Tigerlily, PVH Corp (Calvin Klein and Speedo), Quicksilver, Billabong and Levis Strauss & Co.

B- to B+:

David Jones, Kathmandu, American Apparel, Target, Coles, Fast Retailing (UNIQLO), Cotton On Group, H&M and Country Road.

A- to A+

Patagonia and Adidas.

The full list of rankings from Baptist World Aid are available here.
More than 90% of the clothes we buy are imported from Asia– knowing exactly where in Asia helps to ensure the people making them are safe.
Publishing the locations of factories means companies are held to account for workers' conditions.
A second report from Oxfam, reveals since Rana Plaza only five of 12 major Australian brands have gone public with which Bangladeshi factories they use.