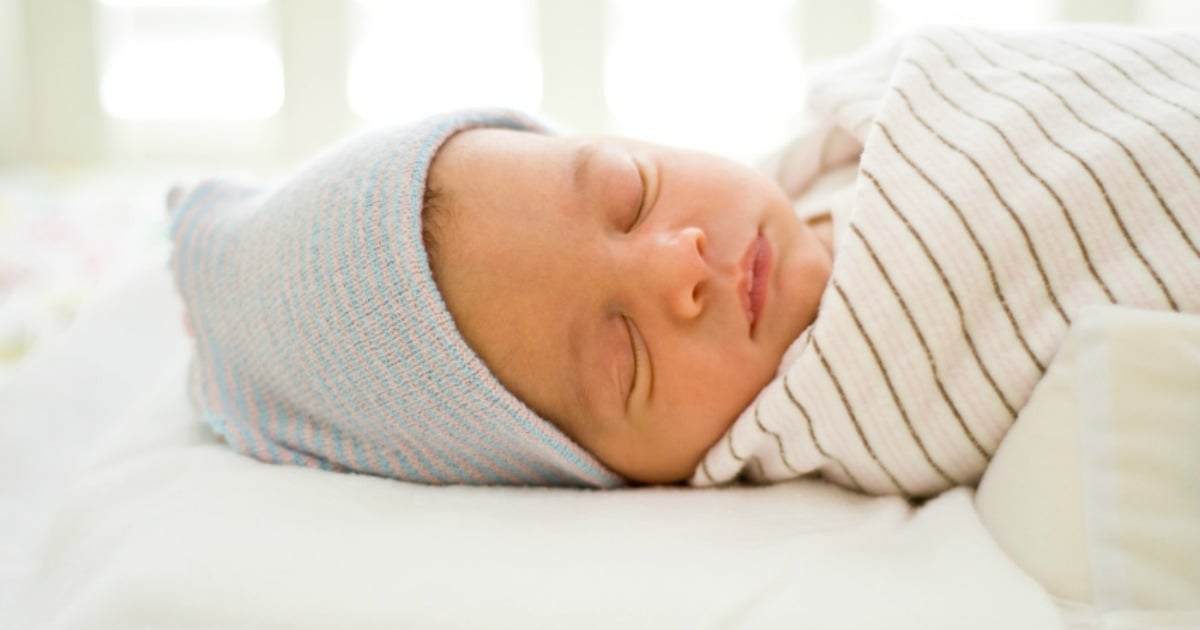 We've rounded up all the latest news from Australia and around the world – so you don't have to go searching.
1. Swaddling study: Researchers find that swaddling may increase risk of SIDS.
Researchers have found that swaddling, or wrapping a baby increases the risk of SIDS by about one-third.
The study published in the journal Pediatrics analaysed data from four studies and found there may be a link between swaddling infants in a blanket or cloth and Sudden Infant Death Syndrome (SIDS).
Researchers considered data from 2,519 infants, which included 760 who died of SIDS. They found that overall, swaddling appeared to increase the risk of SIDS by about one-third.
Anna Pease, lead study author and research associate at the University of Bristol in England, said in a statement that one of the biggest limitations of the study was that none of the studies gave the same definition of swaddling.
"We only found four studies and they were quite different, and none gave a precise definition for swaddling making it difficult to pool the results," Pease said. "We did find, however, that the risk of SIDS when placing infants on the side or front for sleep increased when infants were swaddled."
She reinforced that the study in no ways says parents should stop swaddling all together, it did find that swaddling could be dangerous for older children who can move from their backs into a dangerous position while sleeping.
"On a practical level what parents should take away from this is that if they choose to swaddle their babies for sleep, always place them on their back, and think about when to stop swaddling for sleep as their babies get older and more able to move," Pease said.
2. Engineer who killed wife and son in murder suicide car crash also planted bombs in their car.
A father who killed his pregnant wife and eldest son in a double-murder suicide car crash planted bombs in the car that failed to detonate.
In January last year Darren Milne, 42, and his wife Susanna died instantly when Mr Milne deliberately slammed his Toyota Corolla at high speed into a tree on Enterprise Drive on the NSW Central Coast.
The Central Coast Gosford Express Advocate reports that Liam, 11, died at the scene. The couple's other child, Benjamin,7  was critically inured but survived.
An inquest has heard that Mr Milne had planted in the bonnet of the car two petrol bombs, which failed to detonate.
Leading Senior Constable Peter Mason, of the Forensic Services Group said investigators discovered a "sophisticated" circuit of wiring and plugs connecting three 12-volt batteries to two metal flasks, each containing about 500mL of fuel.
The inquest heard that the father had planned the murder-suicide for months filming "10 practice runs" on his dash cam.
It was revealed that Mr Milne took his own life and attempted to take his family's lives because of fears for his sons, who have been both diagnosed with Fragile X syndrome.
He left a note on his Ipad detailing his plan writing:
"It's not worth it, neither of us have the skills to make it work. We have both given it our best shot over a long period of time. There is too much conspiring against us. G got the calculation wrong, it's that simple. L & B are both happy, B doesn't yet know, it is a good time to go. It is only going to get tougher as time goes on. We have been completely s'd over, maybe we can stop it happening to someone else. They are going to have to manage ADD + Diabetes, it is going to be too much. They need to exercise & manage their health, it is going to be hard to see this fail. Things are going to get progressively harder for Ben. He hasn't seen any malice or bullying yet, but it is coming. From this point on I need to be totally focused, forget everything else. Need to source comfort"
For help: Lifeline 13 11 14. Kid's Helpline: 1800 55 1800. Men's helpline: 1300 78 99 78
3. Mother charged with attempted murder for allegedly ramming car into son had dumped her kids last week at a gym to go to the pub.
The woman who was charged with the attempted murder of her seven-year-old son after she allegedly tried to kill him with her car was reported to police last week for dumping her children at a local gym and going to the pub.
Yesterday the woman appeared in Bega local court in NSW after she allegedly tried to run down her seven-year-old son twice with her car in a park on the NSW south coast.
The 39-year-old, who cannot be identified for legal reasons, was charged with attempted murder. Witnesses said she was circling the boy before he was struck twice he then hid behind trees to escape the car.
It is believed the boy's younger sister was in the car at the time.
News Limited reports that the mother, who had recently split from the children's father, allegedly dumped her children for two hours at a gym to go to a local pub last week. She was also seen allegedly grabbing the boy by the neck firmly at the pub on Mother's Day.
She did not apply for bail and will reappear in June.
4. No deals with the Greens.
Both major parties yesterday ruled out making a deal with the Greens in the case of a hung parliament as like in 2010.
Prime Minister Malcolm Turnbull said that there is "absolutely no chance" of the coalition accepting a deal with the Greens to form a minority government.
"I can rule out any collaboration with the Greens to form a government, but I can tell you Labor won't and Labor can't," Mr Turnbull told reporters in Brisbane on Tuesday.
Labor leader Bill Shorten, in Townsville, also said there would be no deals with the Greens.
"We're in it to win it," he said.
5. "I'm sure daddy just wants to kill us".
A terrified 11-year-old girl who witnessed her father allegedly shoot up methamphetamine and threw a pair of scissors at her mother has told police that her enraged father "wanted to kill them."
The Illawara Mercury reports that a man has been sentenced for nine months in jail after a domestic violence assault on his partner witnessed by his children.
It is reported that the man chased the mother onto the streets of their Nowra home after they got into an argument and the woman told him to pack his bags and leave.
The court heard there had been a lengthy history of abuse between the man and his partner during their six-year relationship. There were even allegations he had killed her pets during a domestic incident.
The man was said to have injected himself with methamphetamine in full view of the children, just moments before throwing a pair of scissors at the woman, narrowly missing two of the kids.
The victim and her kids fled the house, running onto the street to a nearby pub.
The man followed them outside where members of the public intervened.
When police arrived the 11-year-old girl told officers "I'm sure daddy just wants to kill us".
Police said that on of the children showed them bruises on her leg that her father had done with a skipping rope three days earlier.
The man was charged with multiple domestic violence related offences, to which he subsequently pleaded guilty.
6. Government will not fight a court ruling blocking it from providing an abortion in Papua New Guinea for a young refugee raped in Nauru.
Mr Dutton said Australia would provide "reasonable support and proper medical assistance" to the woman. Via Getty.
The ABC reports that Immigration Minister Peter Dutton has confirmed the Government will not fight a court ruling blocking it from providing an abortion in Papua New Guinea for a young refugee raped in Nauru.
The African refugee who became pregnant after being raped while she was unconscious and suffering a seizure was flown to PNG for an abortion.
The Federal Court found last week found that it would not be safe or legal, and ordered Mr Dutton not to organise the termination in PNG, saying Australia had a duty of care to the woman.
Mr Dutton told the ABC he would not appeal against the ruling in a higher court.
"It's a very narrow judgement in relation to specific circumstances relating to this one case, that's an important point to make," he said.
The court judgement found the Government must now facilitate a safe and legal abortion for her.
Mr Dutton said Australia would provide "reasonable support and proper medical assistance" to the woman.
"I won't tolerate any instances of sexual abuse, whether it's in our detention network here or in one of our regional processing centres," he said.
7. President Obama to make historic trip to Hiroshima.
Barack Obama is to become the first serving US President to visit the Japanese city of Hiroshima, which was hit by an American atomic bomb at the end of the second world war.
He will make the historic visit during a trip to Japan and Vietnam later this month according to the White House.
Around 140,000 people died after the bomb was dropped on the city in 1945.
8. Tradies making more money than lawyers.
A web site has revealed that Plumbers and electricians are Australia's richest tradies, and that they charge more than double what the average lawyer earns.
Serviceseeking.com.au shows the average plumber charges $78.40 an hour, up 1.9 per cent on last year, and the average electrician charges $74.61 an hour, up 4 per cent.
The average lawyer, by comparison, earns $37 an hour.
NSW concreters earn the most, charging $88.71 an hour.
They are followed by WA plumbers at $87.67 an hour and WA electricians at $87.33.
Do you have a story to share with Mamamia? Email us [email protected]