Since announcing she was expecting her first baby live on air in December, Erin Molan has been anything but shy when it comes to sharing her 'warts and all' experience of pregnancy.
Now The NRL Footy Show host has revealed the 'inconvenient' timing of her due date, hinting that her Channel 9 bosses and colleagues might not be too excited to hear when Baby Molan is expected to make its debut into the world.
"I'm due to give birth around State Of Origin I," the 35-year-old told hit105's Stav, Abby and Matt on Thursday.
The game – the first of three played every year between Queensland and New South Wales – is set to take place on June 6 at the MCG in Melbourne.
For a sports presenter who hosts the country's biggest show dedicated to the game, the timing is… less than ideal.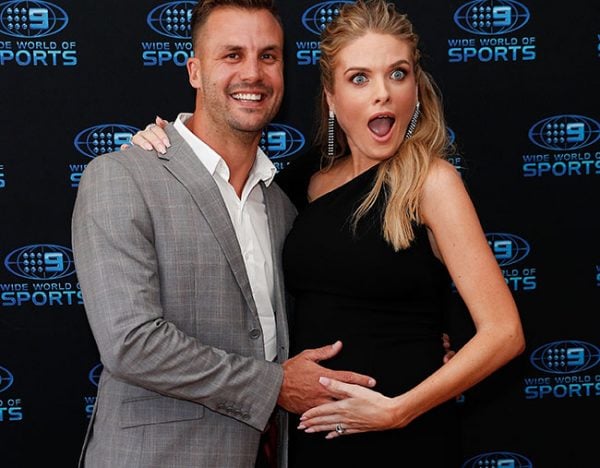 "My timing is horrendous, as per usual with most things in life," Erin shared.
"I'm sure work's really happy with my timing."
The soon-to-be first time mum also admitted she is nervous about how to care for her baby, saying she "doesn't know what I'm doing.
LISTEN: We speak to an Human Resources Manager about the right way to tell the boss you're pregnant, and what your rights are when it comes to maternity leave. Post continues after audio.
"I just keep Googling 'how to keep a baby alive after birth' and not much comes up so I'm totally stuffed," she said.