In July last year, Aussies Nick Smith and Joe Murphy tied the knot in New York.
Seventy-five Australians traveled to the Big Apple to attend their wedding, but there was someone very important missing – Nick's grandmother Jean.
Jean, who was nearly 90, passed away only three months later, having never had the opportunity to see her grandson marry the man he loves on Australian soil.
The trip was too big for Jean, and without marriage equality in Australia, the couple couldn't bring the wedding to Jean.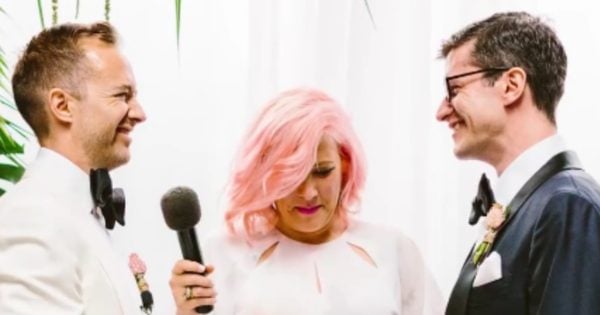 Now Nick's mum, Sue Smith, is pleading with the Australian Government to make marriage equality a reality, so no other Aussie families or ageing grandparents have to miss out on the most important day of their same-sex relatives lives.
"It's a very emotional time for grandparents and they really want to see their grandchildren getting married," Sue told Mamamia.
"My mother was so disappointed that she never got to see Nick and Joe as a married couple. When I would show her the wedding video or photos she would get very emotional."
Sue got in touch with the Equality Campaign and has since featured in a emotionally powerful video that has been viewed over 394 000 times on Facebook and shared more than 4000 times.
"I wanted to get the message out but I never thought the video would be watched by nearly 400 000 people," she said.