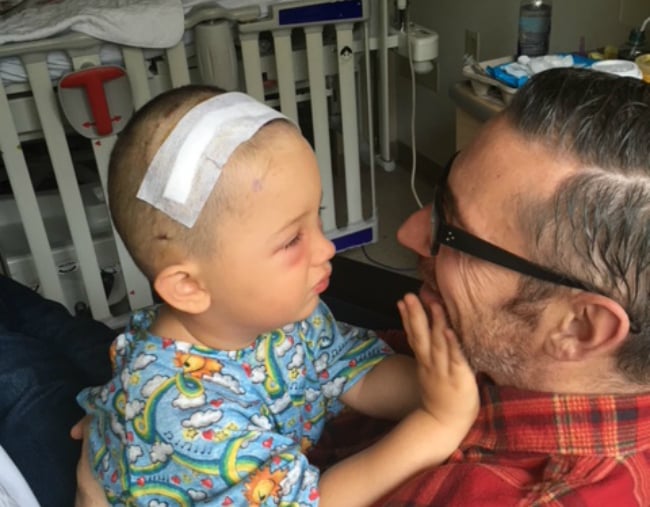 Adam Gillibrand is the father of five-year-old Jamie, who was born with a severe epileptic condition. With traditional treatments failing their son, this is the story of their search to give their son some hope for the future.
Jamie is our third and youngest child, so when he came along we weren't inexperienced parents. But at five months old, Jamie started developing a jerking motion, what we thought was the so-called falling reflex or Moro reflex, common to many babies.
But it grew worse over several weeks and as we were about to fly to Port Douglas for our winter holiday, we thought we had better seek medical advice and get cleared for take-off. For speed of response, we decided to go straight to Emergency at the hospital rather than our GP.
In ER, by chance that day, the epilepsy specialist was on duty. My wife had filmed the falling reflex and we showed it to him. Immediately he diagnosed it as epilepsy at which point we had no idea what that meant and weren't unduly worried.
The diagnosis of epilepsy was both shocking and devastating. We had no clue what to expect or how we would cope as a family. As a parent you go into survival mode only being able to cope with immediate thoughts and events. The moment you mentally venture into the future you become extremely overwhelmed. In addition, having two other children puts pressure on you as a parent to protect them from the stress and sadness, there's no time to have a breakdown.
After that initial diagnosis, he was then diagnosed as having infantile spasms which, they don't tell you at first, is a very very sinister form of epilepsy. It's intractable and the first advice from the neurologist to us was not to Google it.
We were sent home with medication. The first step is to give an extremely high dose of anti-inflammatory steroids and the poor little fellow blew up like a little balloon. But, at that point, it also meant that he had two weeks of no seizures. But you can't keep a patient on that dosage as it's very dangerous. Then the medics wean the patient off that in the hope that it has fixed the problem. But it hadn't.
Then Jamie was put onto Sabril. I remember them telling us it was a great drug as it had been around since the 1950s.
Intuitively, you think, what no medical advance in 50 years? That didn't work either and, to cut a long story short, after nine months of a really hefty cocktail of anti-epileptic medication, with the seizures getting worse not better, we were stuck.
The hardest aspect of our journey was the realisation that the treatment was a guessing game: trial and error of multiple medications with no real explanation or long term goals.