Sharing the news of your engagement is one of the most exciting parts of getting engaged.
Charlyn Willis' engagement announcement didn't quite go to plan.
The newly minted fiance from the US went to text her sister the exciting news, but texted the wrong number. That wrong number? Turned out to be Sarah Michelle Gellar's number.
(Yes, THAT Sarah Michelle Gellar.)
And how do we know all this? The actress shared the hilarious story on her Facebook page.
"This is #CharlynWillis. She got engaged yesterday, and meant to text her sister, but in all the excitement, got me instead. Her sister didn't respond, but I did. So please help me say congrats, to Charlyn. (And her fiancé whose name I don't know) #congratulations," she captioned the photo.
It gets better.
Charlyn Willis saw the post and commented back to the Buffy star.
"Omg! Thank you Sarah! His name is Dennis! Thank you so much for this. You've truly made my engagement experience even more of a life changer," she wrote.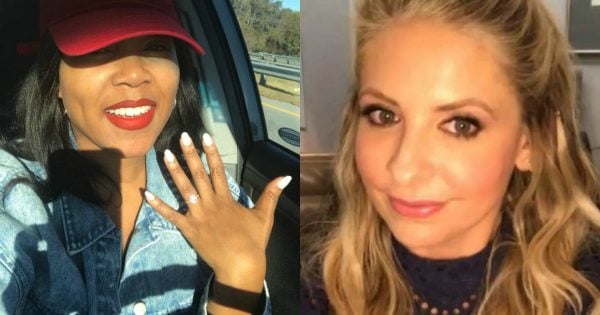 "Please know when we set a date, I'll be reaching out to invite you, Freddie, and the kids!"
Now that's one wedding snap we'd love to see.