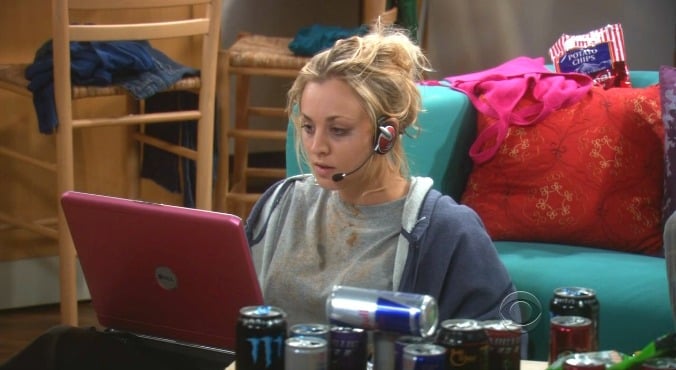 Image: CBS.
It's hard to imagine now, but back in the olden days — you know, when dinosaurs roamed the planet — TV shows were distributed and consumed gradually. Agonisingly so.
Viewers were forced to wait up to a week (seven whole days, can you imagine?) for each episode of their favourite series. This provided ample time for reflection and speculation. Would Carrie and Big finally sort their shit out? How was Chandler going to propose? Goddamnit, who killed Laura Palmer?
These days we can access entire seasons in one fell swoop — and anyone who has been in the binge-watching trenches knows these 10 emotional stages all too well:
1. Anticipation
There it is, waiting for you: the brand new season of Orange is the New Black. Oh, joy! You can't quite believe it's time to reunite with all your old (ahem, fictional) friends, or to meet some new ones.
You prepare for the viewing like you're preparing for a date. You've cleared your schedule, you've got snacks, and you're going in with clear eyes and a full heart… and a bad case of denial. 'I'll just watch two episodes now, then I'll go to spin class. This time I'm going to space it out,' you'll tell yourself serenely.
Haha. Good one.
Watch: Those Two Girls nail what we're all like watching the Oscars. (Post continues after video.)
2. Ecstasy
Those heady early days (or, um, hours if that's how you roll) are sheer, unadulterated bliss. It's like owning a new puppy — you're overjoyed to have something waiting for you when you walk through the door at the end of the day.
3. Obsession
Here, you lose the ability to talk about literally anything else. When someone asks how you are, all you can respond with is, "I'm good, but I just can't believe what's going on with Alex and Piper right now."
When you take a rare break between episodes, you start maniacally researching the actors on IMBD to find out everything you possibly can about their past ('I can't believe Krysten Ritter was in Gilmore Girls before Jessica Jones!').
It's like when you're in the early stages of a relationship and you can't stop thinking about, and name-dropping, your boyfriend. Only in this case, your boyfriend is… a TV show.
4. Identity crisis
Six episodes in, you've progressed to a whole new psychological stage. You're so immersed in the show you feel like you've connected with the characters on a deep, personal level — at the cost of your own identity.