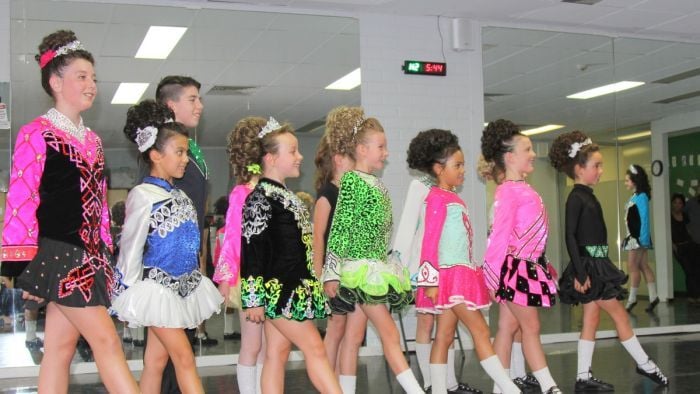 It wouldn't be St Patrick's Day without the sound of a traditional Irish jig, shamrock green dresses, towering hair and feet tapping in unison.
Irish dancers of all ages from McGrath Irish Dancing school will feature as part of the festivities across Canberra on Friday.
The dance school is one of five in the city, training kids as young as three and four in the high-energy pursuit.
While many of the young dancers have Irish heritage, dance school director Leanne McGrath said there had been a new kind of resurgence in the sport.
"Since last year, Emma the Wiggle has been doing Irish dancing on the Wiggles," she said.
"A lot of beginners watch the Wiggles and so a lot of the intake in the last couple of years has been because of that — it's been awesome for the sport.
"Also if you go and see Riverdance and you have a child with you, they're going to want to start Irish dancing no matter what."
Ms McGrath said aside from the big hair and jewel-clad costumes, the students were attracted by the fast pace of the dance style.
"The fitness that these kids have is unbelievable," she said.
"The material that even my six and seven-year-old class are learning is really technical.
"The standard is quite high now and I can expect a lot from these dancers.
"As well as the little ones, we've got dancers who are training to compete on the world stage."
Aine Fitzpatrick has been training up to six times each week in preparation for the world championships in Dublin in April.
The 19-year-old ANU student said she was first attracted to the sport while living in its heartland.
"I started when I was really young living in Ireland but gave it up when I moved to Australia, thinking there were so many other things I could do," she said.
"When I moved to Canberra about five years ago I was so inspired when I met Leanne and have kept going ever since."
Starting from 7:30am on Friday, Ms Fitzpatrick and the troupe will be performing at the Irish Club in Weston, at various nursing homes across the city, and then busking around Woden.