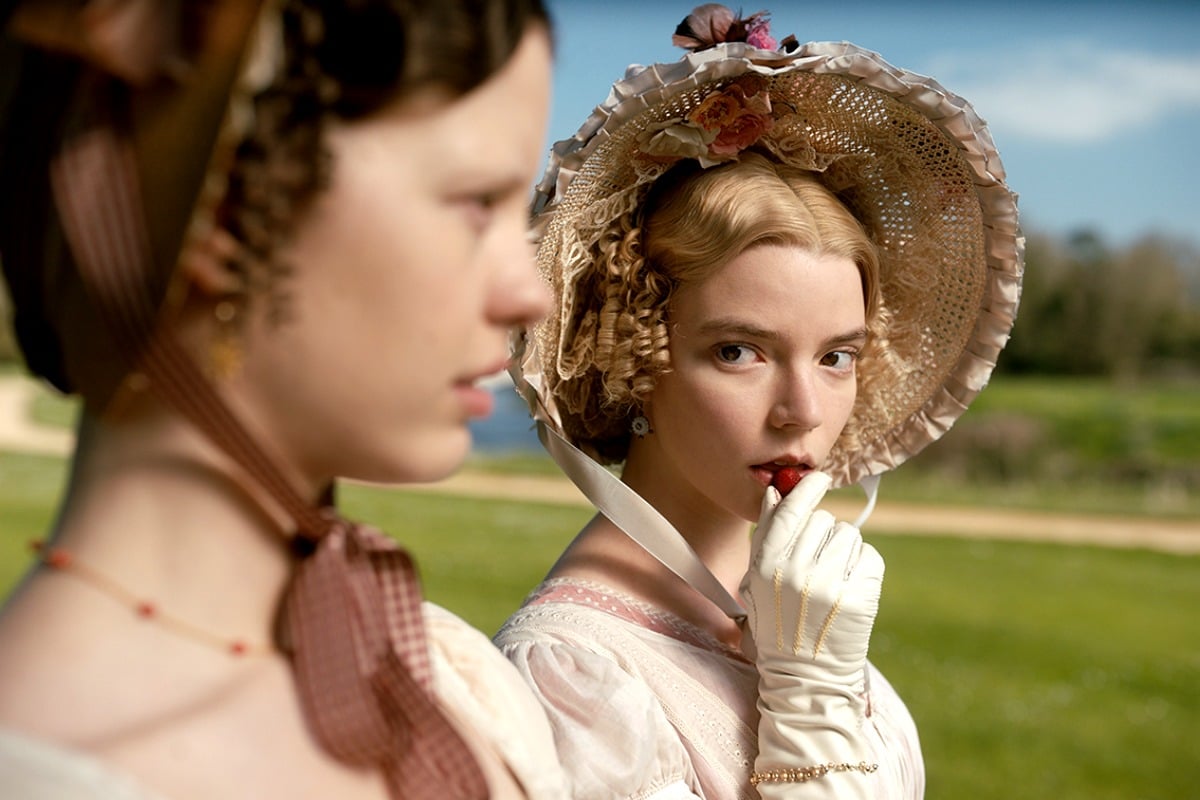 When it comes to Jane Austen's gaggle of famous leading ladies, Emma Woodhouse is often portrayed as the one we'd least like to be trapped next to on a flight.
The subject of Austen's beloved novel Emma can come across as snobbish, cunning and even downright unlikeable at times, which makes a lot more sense when you realise that's how the famed author always intended her to be, saying of her literary creation 'I am going to take a heroine whom no-one but myself will much like.'"
With director Autumn de Wilde's new big-screen version of Emma, which stars Anya Taylor-Joy in the titular role, we finally see the heroine as Austen always intended us to, as a complex figure caught up in a series of tiny love stories told with sharp humour and clever social commentary.
The fact that Emma Woodhouse doesn't always score highly on popularity polls is what enticed 23-year-old actress Anya Taylor-Joy, best known for her turns in chilling horror movies The Witch and Split, to play her.
"The fact that Emma can be seen as an unlikeable character is what drew me to her," Anya told Mamamia.  "I love the fact that she is complicated and has all of these different sides to her. It's interesting when you have a character where you can really see all her flaws.
"People forget that Jane Austen was actually very, very funny, and Emma had been written that way so I wanted to play her exactly as Austen had described. She can be really cutting at times."
Just like the book, Emma opens on the 20-year-old protagonist preparing for the wedding of her former governess Mrs Weston (Game of Thrones star Gemma Whelan), a romance she delightfully credits to her own matchmaking skills. Emma then sets her sights on her next pairing of unsuspecting soon-to-be lovebirds.
While filming Emma, the cast and crew walked a fine line between true to the customs of that area while also weaving small physical moments into the scenes to show Emma's own romantic storyline bubbling away below the surface.
"We always used to say that choreographing the dance scenes in Emma was like shooting a thriller," Anya told Mamamia. "With all the secretive little glances we had to give each other across the room and then make sure the cameras caught them. These moments tell so much of the story.
"We also had an etiquette teacher with us during filming to keep us all in check. The two things that were impressed most upon me were just how much physical touch is restrained in this world, and so when their hands do touch, especially with the opposite sex,  it's a very thrilling moment.  I also found drinking tea on screen very stressful, there are a lot of different rules about how you have to do it.