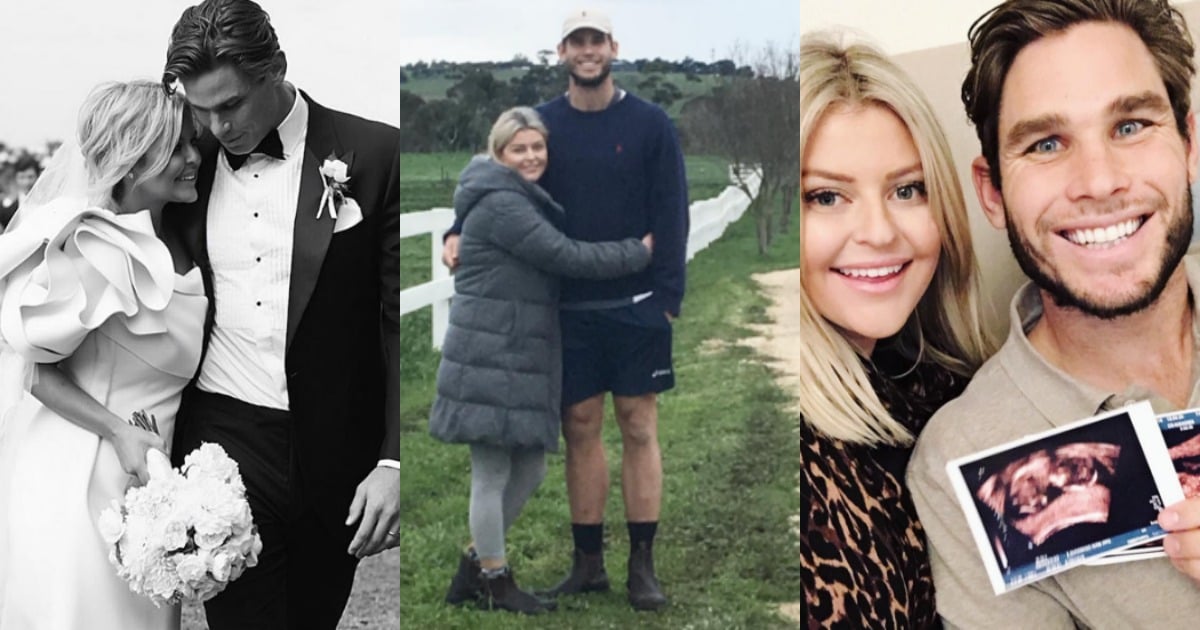 It's been a big year for Geelong Cats forward, Tom Hawkins and his wife, communications strategist, lifestyle blogger and woman in her own right, Emma Hawkins.
First a wedding, then a new property.
Now, congratulations are in order for the Geelong based couple.
Last night they announced Emma's pregnancy on Instagram. "We couldn't be more excited. We made a little human!"
Emma, who is currently working with Yellowglen as a creative stylist and as a brand ambassador for Woolmark, told Mamamia that the baby is due in early January.
"I have had really bad morning sickness unfortunately, but I think (touch wood) I'm starting to feel better.
"The first trimester has been long, and there were days I really struggled keeping it together with work and just day to day stuff but I've already connected to some lovely women and have been asking for lots of advice which has been very helpful."
Tom also posted the photo on his Instagram account, captioning the post: "WE'RE PREGNANT!!!! We're so lucky and so excited. Cannot wait to meet him/her."
While Emma can regularly be found on her Lifestyle site Who Loves That featuring beautiful interiors and decorating ideas, she says she doesn't have plans for the nursery just yet.
"If I'm completely honest I haven't thought about that yet. It's been a huge four months of work with the online store and I've just started planning with my role at Yellowglen as the creative stylist for the Yellowglen terrace throughout the spring carnival.
"We have also just moved homes so once I get settled I definitely can't wait to start planning the nursery."
The couple got married earlier this year, in a ceremony on Victoria's Bellarine Peninsula.
The Geelong Advertiser reports that Emma and Tom, both of whom are from regional NSW, bought a property outside Geelong and will soon welcome cattle as well as a new bubs to their home.
Congratulations Emma and Tom, and all the best for a happy and healthy pregnancy.
Watch these Mamamia mums answer all the tough questions about pregnancy.