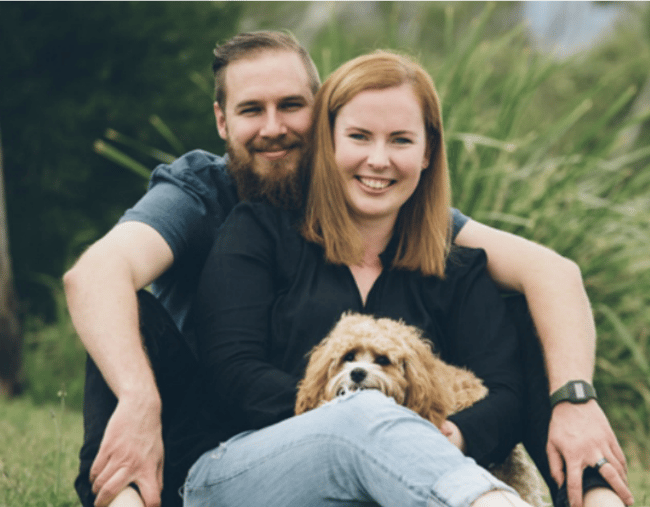 You're not meant to lose your wife when she's 25 years old.
When just three years ago, you met her during a casual night of pizza and board games with family and friends, and fell in love with her goofiness and slight propensity for bossiness.
When you remember your second date – the one where she arrived on your doorstep with a picnic basket full of cheese dips and crackers and chocolate strawberries, and you went to a look out and kissed and giggled about how cold and windy it was – as though it was yesterday.
When you both wanted a family, and you wanted to grow old together.
But just over one year ago, 27-year-old Srdjan 'Serge' Simic laid down next to his wife Emma in her hospital bed as her breathing stopped, and while he says absolutely nothing could have prepared him for that day, he felt a sense of relief. His wife, his best friend, and the love of his life wasn't suffering anymore, and they had known it would end like this.
"Serge didn't sign up for this."
Emma Betts was 21 and volunteering in East Timor when a stranger spotted a mole on her shoulder. Returning to Brisbane, she had a biopsy, and was told to return to Australia every three months for a check up. And she did.
Then she discovered a lump under her arm.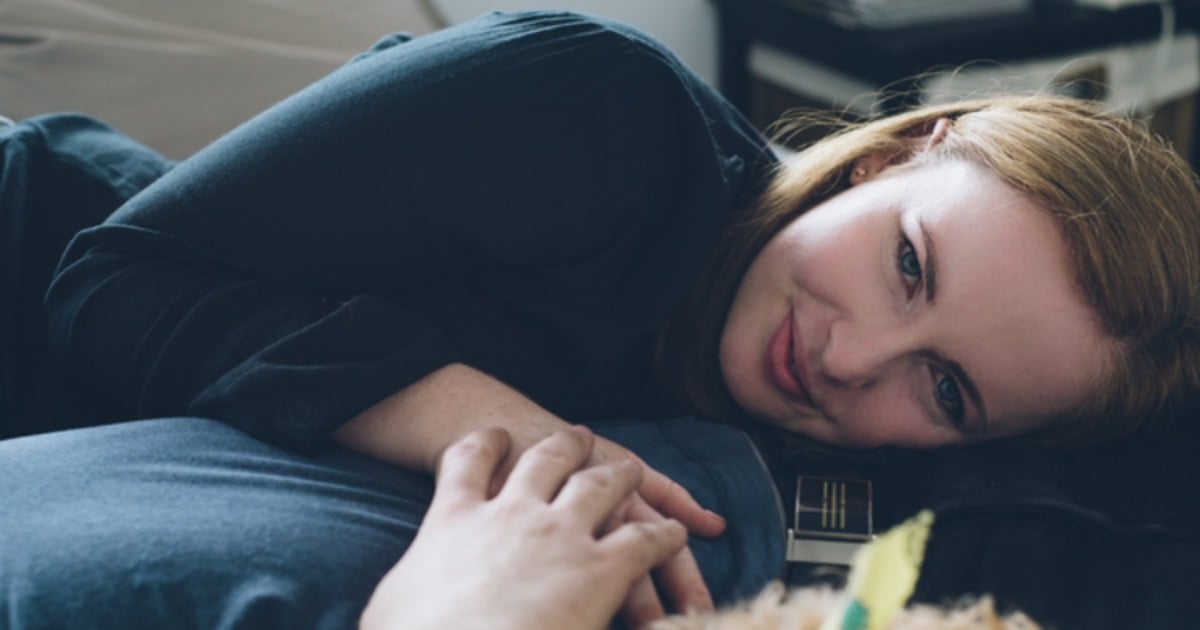 When she returned to Brisbane to have the lump looked at, the doctors said there was a good chance they could remove it, and everything would go back to normal.
But a few weeks later, she was told they didn't catch everything, and it was in her bloodstream. She had stage 4 melanoma, and surgery was no longer an option. Emma Betts was 22 and had just been given six months to live. She was also in a relatively new relationship with Serge.
"She said to her mum, 'Serge didn't sign up for this. This is something I go through myself,'" Serge tells Mamamia.
"But for me I couldn't... I fancied her a lot, I couldn't flick a switch and go, yeah alright, you're a dud see you later. When we were together everything just felt right.
"We didn't ignore the diagnosis but it just felt like... whatever it takes, I'll be there."
Instead of leaving, Serge proposed. A short time later, when Emma was told she may only have three months to live, they moved the wedding forward.
Their wedding day is one of Serge's happiest memories with Emma. "Not only [because we were able to] share the love and celebrate our love... but to have our family and friends surround us and support us, I'll never forget it," he says.
"I'm very proud we got to experience the love that we had," Serge says. "Owning our house together and having a cute puppy dog and being able to go and travel the world and see the world... I think I'm very lucky because most people don't get to experience that, or leave a mark behind."
With the happy moments, however, came the hard ones. The hospital visits. The pain. The hopelessness.
Listen: Mia Freedman interviewed Emma Betts, just weeks before she died.

"Dying with dignity and euthanasia is very much spoken about today... and a lot of people have opinions on it, and I certainly didn't have an opinion on it until Emma's body started shutting down," Serge says.
"She could no longer eat food, she could no longer go to the toilet, she could no longer get up.
"There was one particular memory where we walked the hall of palliative care... and she was just walking on a little walker, and she looks at me and says I'm ready to go, I don't want to do this anymore, I can't do this anymore.
"You come to a point where you're telling yourself there's no place on earth for somebody to suffer like this."
"I received a text message, saying I want to tell you that I love you."
As it was nearing the end, Emma was given pain killers that altered her state of mind. Serge, Emma's parents and her sisters would spend time with her in the hospital, taking turns sleeping there.
"I remember going for a bike ride one day," Serge says, "and receiving a text message from her, from her phone, that she would've told her sister to message me, saying I don't think it's time... I want to tell you that I love you. It's not time, but please come.
"Really shortly it was the point where... we weren't going to be sure how much 'Emma' there would be. I used to talk to her not knowing whether she was listening, whether she could understand."
The day it happened, Serge remembers her breathing being very laboured. She was taking big, long breaths.
It was unimaginably difficult, he says, "to watch someone that you love going through this death and at the same time wanting it to be over".
"We jumped into bed... and she sort of, she stopped breathing."
"I'm still finding out that Emma did a lot of things for when she would no longer be around."
When Emma died, she left behind a plan. She had organised her own funeral, to be pointedly described as a "last hurrah".
During the service, a video of Emma was shown to the hundreds of people who had come to celebrate her life. "I want it to be a production," she said. "I want people to sit there and talk about me for like, an hour.
"I want it to be happy, but also, obviously, it's got to be sad. I want the music I choose and I want to be in control."
Her white coffin, adorned with pink roses, was carried out of the hall as Darryl Braithwaite's The Horses played. It was her favourite song.
"To this day, I'm still finding out that Emma did a lot of things and put a lot of time and effort into the time where she would no longer be around," Serge says.
"All these things, from buying a unit, to [renovating] the kitchen, to having the house painted, to 'hey Serge, sell both our cars and buy a reliable car', it's like she was setting me up for the future."
She told her friends to promise they would catch up with Serge. To make sure he was okay. She made her mum promise the same thing.
Even now, Serge gets phone calls from friends saying, "Hey I spoke to Emma, and we've gotta go do this [bike] ride."
Then there's Ralph.
"He was her companion dog, and now Ralph is my little companion dog," he says. "My friend, my best friend. I get to look after him. Yeah, my little rock. I love him very much."
A particular beauty of Emma's legacy is that when Serge misses her voice, or her thoughts, he can listen to interviews she did, and read stories she wrote on her blog, Dear Melanoma.
Serge also keeps Emma with him at home. "I've kept the unit very much as it was when she was around," he says.
"So if she walked into it tomorrow, it'd be the same lovely unit with all of our photos on there, the nieces and the nephews. I'm very proud of that."
"I will always remember her spirit."
One of Emma's biggest fears was being forgotten. That life would go on, and people would move on.
But today, Serge finds Emma in unexpected places.
"I'll go on an adventure or to a part of Brisbane where I've never been before, or I do something, like I'll go and run 10km, and I think to myself, 'wow, I wish Emma was here to experience this with me'," Serge says.
Parts of Emma have rubbed off on him, and he doesn't worry like he used to. He doesn't stress over the little things.
Serge remembers his wife as "absolutely vivacious."
"She was fun and she was loving," he says.
Before her diagnosis, she was a volunteer, trying to be a part of finding a solution to complex social problems in third world countries. Then when she was diagnosed, she became a fierce advocate for sun safety, raising over $100,000 for Melanoma Institute Australia.
So many lives touched. So many people to remember her.
And a husband who says, "If I could do everything all over again, I would love to."
Serge would like to invite members of the Dear Melanoma community to join him in person to watch Emma's Australian Story episode on Monday 16 April. All funds raised will benefit the Mater Foundation's life-saving research program.