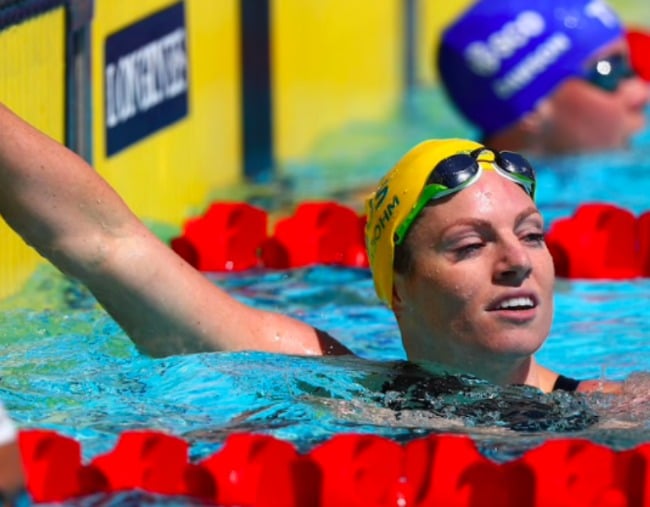 A number of swimming commentators believe 25-year-old Australian swimming star Emily Seebohm was disadvantaged by the conditions of Saturday night's Commonwealth Games 100m backstroke final.
Seebohm was nervous about the outdoor stadium in the lead up to the event, given that many backstroke swimmers rely on the roof to indicate their position in the pool.
"There's not a lot we can do. We train indoors so it is really hard," she said.
During the race, Seebohm was ahead, with Canadian Kylie Masse 0.03 seconds behind. However, about 25m from the finish, Seebohm appeared to lunge for the wall, hitting the lane rope on her right side. Ultimately, Seebohm lost to Masse by 0.03 seconds.
SILVER for @emcbomb ????in the women's 100m backstroke!#GC2018 #7CommGames pic.twitter.com/0lY7CpVE5l

— 7CommGames (@7CommGames) April 7, 2018
Fox Sports News correspondent Mark Gottlieb tweeted immediately after the race, "I reckon not having a roof on the GC aquatic stadium just cost us a gold medal. Seebohm nearly hit the lane ropes again".
Some argued that all swimmers had the same handicap, and that Kylie Masse is the current world record-holder.
"My point is that it looked like Seebohm struggled more and therefore had to travel further," wrote Gottlieb.
"Sure, everyone has the same conditions but if there was a roof I reckon Seebohm wins. She was swimming faster but not straighter."
Gotta feel for them. Must be bloody hard to swim straight without anything to guide you by. https://t.co/eG3TYWYcgr

— Mark Gottlieb (@MarkGottliebFOX) April 7, 2018
Ian Thorpe agreed that the outdoor stadium may have been a disadvantage to some swimmers.
"That's what we're talking about. Small things we're talking about for ideal conditions for people to swim in," he said.
"Not having roofs for backstrokers. They don't have something to line themselves up."
Following the race, Seebohm said she was happy with her performance, adding "If it wasn't for the crowd cheering me on I don't think I would have been able to swim as fast."
Overall, it was a strong night in the pool for the Aussie women, with Cate and Bronte Campbell finishing first and second in the women's 50m freestyle final, and the women's 4x200m freestyle relay team winning gold.