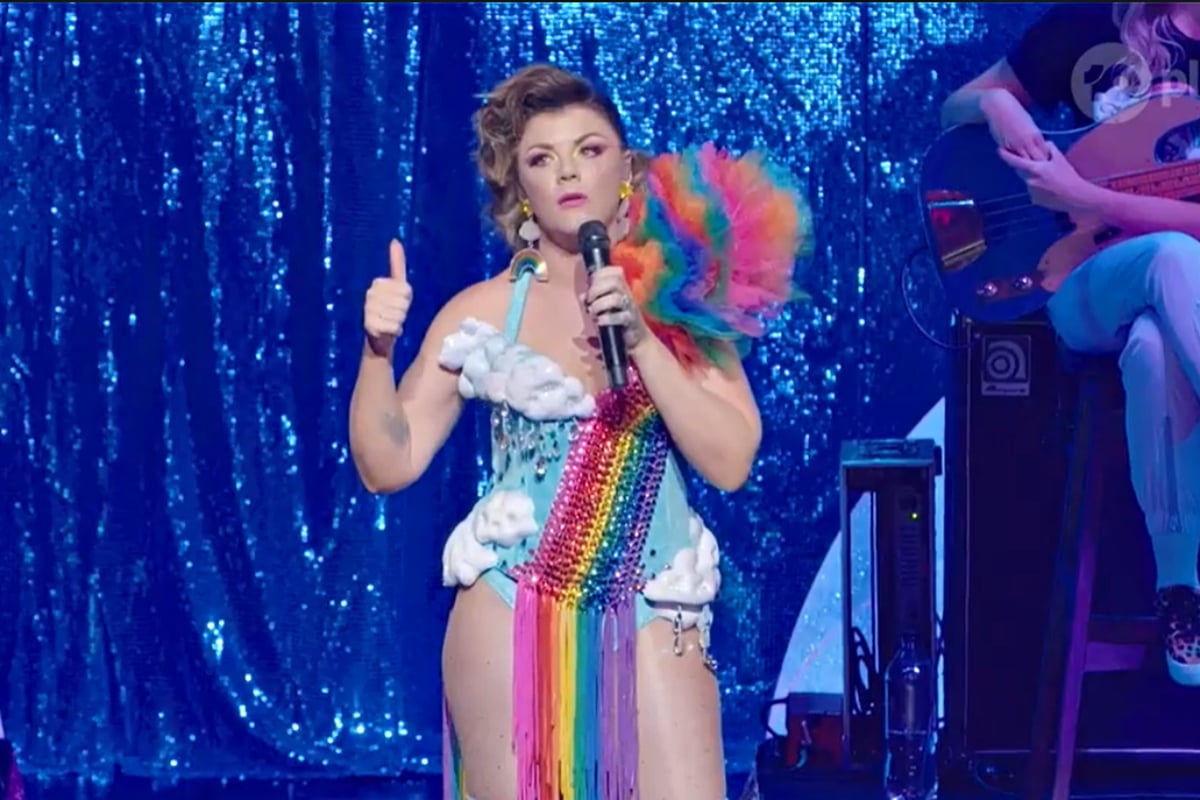 Last night on primetime television, a woman dressed in a rainbow unitard spoke about how, during pregnancy, a woman's nipples transform from delicate little rosebuds into "meaty coat hooks".
She spoke about how post-vaginal-birth sneezing can turn a tampon into a projectile.
How g-strings can "take the back stuff and put it to the front stuff" and give you bacterial vaginosis.
Watch: Em Rusciano in Rage and Rainbows. Post continues after video.

Let's face it, 'bacterial vaginosis' is not a phrase you typically hear on the telly beyond, perhaps, an episode of Embarrassing Bodies. But on Em Rusciano's comedy special, Rage And Rainbows, which aired on Monday night on Channel 10, the Australian comedian championed the universality in those supposedly 'embarrassing' parts of womanhood.
Part standup, part musical, part feminist lecture, the one-hour show centred around that quiet, tiring anger (or even just frustration) many women feel toward the world around them. Sometimes, without even knowing why.
She touched on catcalling, on the beauty industry, on pregnancy thrush, on the mental load carried by women in most households.
"My particular brand of comedy comes from a deep desire to shed light on tough topics, to explore the things we don't normally talk about, and dissect them in such a way that my audience — who are predominately women — feel less alone and less like life may swallow them whole," Em told Mamamia.
"I've done shows on divorce and miscarriage and so, when it came to talking about rage, it actually felt like a light topic, all things considered."
She even threw in a musical number featuring 12 giant, dancing vaginas, just to make it all more palatable… which only a couple of people on Facebook got cranky about. Now, that's called progress, doll.