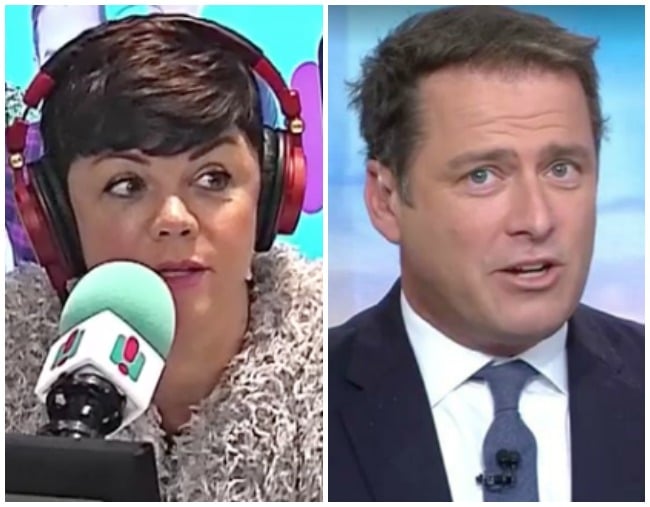 Radio host Em Rusciano has sounded a thoughtful warning to those who are finding "enjoyment" from the Stefanovic phone call saga, reminding her audiences on radio this morning few of us would escape unscathed if our most private conversations were made public.
Talking on her 2Day FM radio show with Grant Denyer and Ed Kavalee, Rusciano said while she didn't think it was clever having a private conversation in public, the blame lies solely with the Uber driver making the conversation public.
"It's almost like they were putting on a performance for the driver. I certainly wouldn't have a private conversation in a car with a driver I didn't know on speakerphone.
"The whole thing is shaky," she said, before going on to slam both New Idea for paying for an interview with the driver and the driver in question.
Georgie Gardner calls Karl Stefanovic "pathetic" on The Today Show in the video below. (Read more here.)
"I have a problem with this whole situation. I mean firstly, New Idea – gross. Seriously, no good man. Also, to the Uber driver: dude, come on. Your job is to drive, not destroy people's careers and lives.
"And then the next thing I thought was, there but for the grace of God, go every single human. If you're recorded in a moment you thought was private – about a colleague, about your mum, your husband, your mother-in-law, your friend, your kids – are you telling me you could be recorded at any time and you'd be completely clean? Because I'd be stuffed. I bitch about everyone, we all do, because it's how we vent as humans."
Rusicano went on to suggest Georgie Gardner probably "wouldn't be surprised" by the content in the recording.
"You know, I don't think Georgie would be surprised. I wonder –  if she got recorded – what Georgie would say about Karl. I don't think this is a one-way street," she said.
"I just think, be very careful today reading this and getting enjoyment out of it. Be very careful and think to yourself, geez, would I be OK if was recorded, because I'll put my hand up now and say I would be absolutely stuffed."
Listen: Mia Freedman interviews Em Rusciano for No Filter.