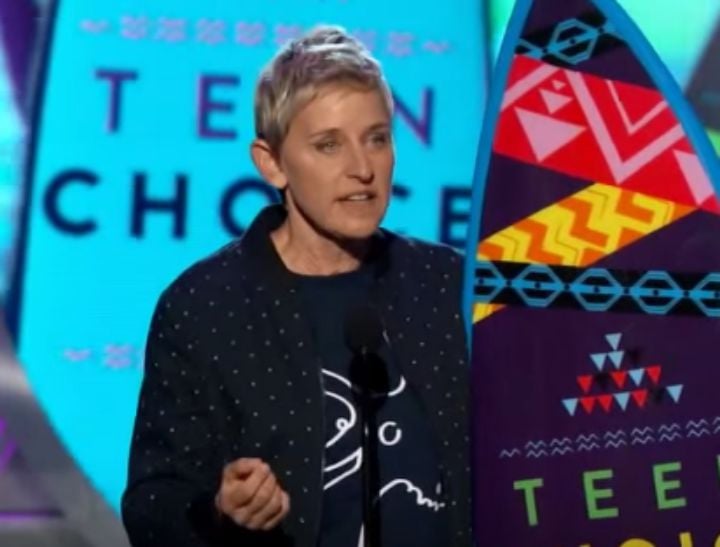 Ellen wins a Teen Choice Award. Says she's now after a Babies and Elderly Choice Awards too. (OK, it was funny when she said it.)
Her mantra is "be kind to one another" and the talk-show host sure lives what she preaches.
In a rare serious moment, 57-year-old comedian Ellen DeGeneres gave struggling teens everywhere hope for the future by sharing her experience of being cast aside as a youngster during her acceptance speech for Choice Comedian at the Teen Choice Awards.
Ellen – who dedicated the award to her wife Portia de Rossi on their seventh wedding anniversary – told teens to be proud of what sets them apart.
"I wanna say also it feels good to be chosen, but there was a time in my life that I was not chosen," Ellen said.
"I was the opposite of chosen because I was different, and I think I wanna make sure that everyone knows that what makes you different right now, makes you stand out later in life. So you should be proud of being different, you should be proud of who you are."
You can watch the full speech here:
"The most important thing I wanna say is just really embrace who you are because being unique is very, very important and fitting in is not all that matters," she said during the speech.
"It's being unique and being who you are."
Hear, hear.
For more on Ellen, try these articles:

Watch: Ellen DeGeneres passionately shuts down anti-gay Pastor.

Portia did a thing for her wedding anniversary with Ellen DeGeneres.

Ellen and Portia share a make-up free selfie. Melts the Internet's cold heart.