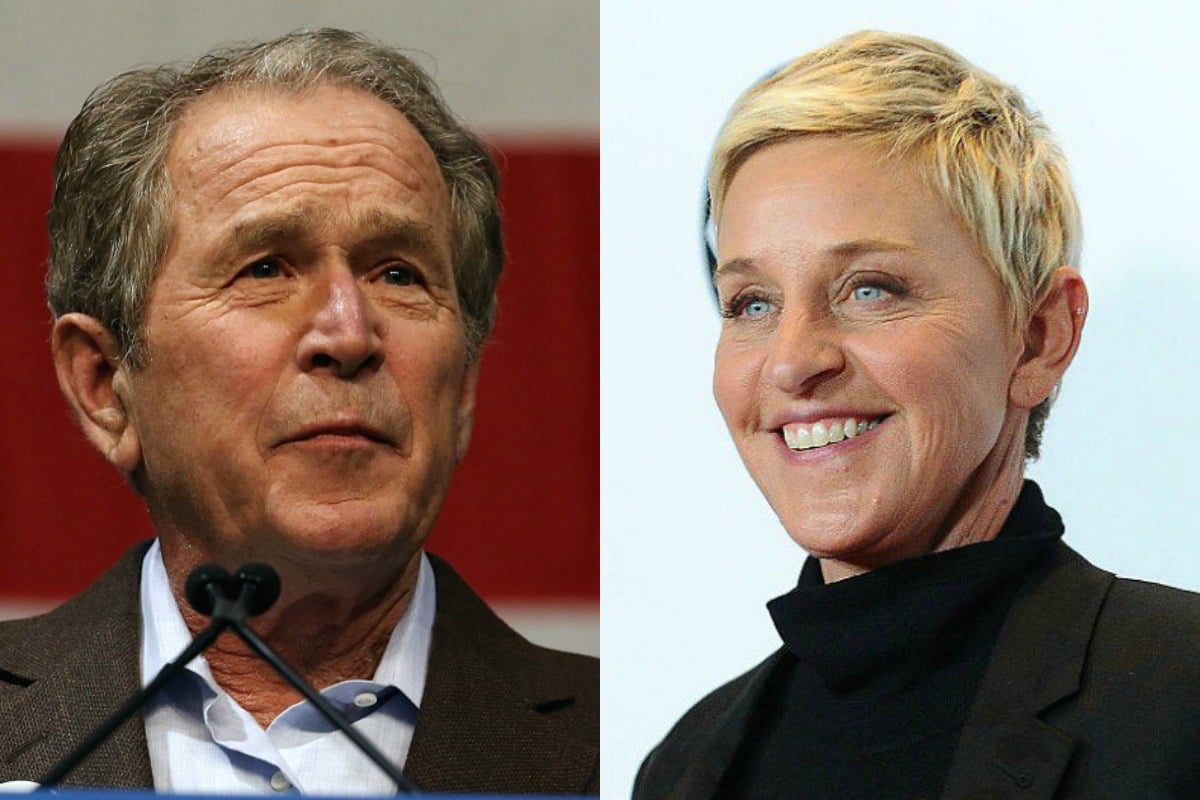 "Did you spit on her?" My mother asked me.
That was her response to the news that I had – as an 18-year-old – passed Margaret Thatcher in a lobby in London.
Margaret Thatcher was the most divisive (by then, former) Prime Minister that my birthplace, Britain, ever had. Her Prime Ministership saw a kind of brutal dismemberment of workers' rights and social safety nets that forever changed England. There were strikes that went on for years. Riots in the streets. Terrorist bombs going off in city bins. It was a heightened time.
And so to me, my mum's half-joking reaction seemed entirely normal.
We live in heightened times again. As the whole furore over who Ellen DeGeneres sat next to in a fancy, football corporate box has driven home.
Ellen – a small-l liberal icon, a married, gay woman, a Hollywood powerhouse – broke bread with a particular kind of devil when she was seen laughing and joking with former US President George W. Bush at a Dallas Cowboys vs Green Bay Packers NFL game in Dallas on Sunday.
And she is paying for it. Even after she addressed it in a monologue on her show, saying that her brand of kindness did not discriminate, and that she has friends of all kinds of political persuasions, the criticism kept coming. America, it is confirmed, is not in the mood for kindness.
Watch Ellen's monologue about George W. Bush on The Ellen DeGeneres Show. Post continues after video. 
Actor Mark Ruffalo tweeted, "Sorry, until George W. Bush is brought to justice for the crimes of the Iraq War, (including American-lead torture, Iraqi deaths & displacement, and the deep scars—emotional & otherwise—inflicted on our military that served his folly), we can't even begin to talk about kindness."
Publications usually kind to Ellen themselves, have been scathing.
"Ellen, George and the death of uncritical niceness" shouts Vox.