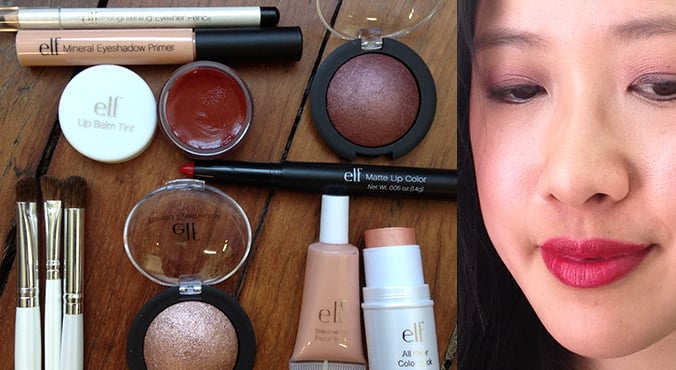 Left: e.l.f. Cosmetics from KMart, and right, Carla GS wearing the products. (Source: Supplied.)
High-impact colours on a barely-existent budget? Yes please. The cult US beauty brand, e.l.f. Cosmetics, has gained a reputation in its home country as an ultra-affordable beauty favourite.
It's been available exclusively at Kmart for little over a year in Australia, yet it's still remained the best-kept secret of beauty devotees.
I used only a handful of products to create a day and night makeup look. Each of the products offered maximum coverage with minimal application and all together came in under $50. That's the cost of one luxury brand lipstick, my friends.
Look one: Fresh daytime.
For this makeup look, I had two goals: get it done fast, and to re-create the glowy, bronze-lidded look that's been all over the catwalks lately.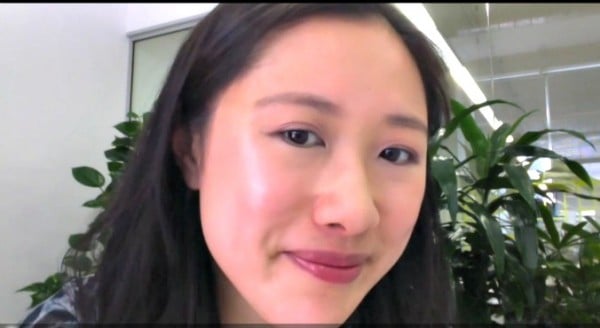 e.l.f. products used:
Mineral Eyeshadow Primer in Sheer, $8.
Baked Eyeshadow in Toasted, $8.
All Over Color Stick in Golden Peach, $3
Lip Balm Tint in "Berry"
Eyeshadow Brush,$3
Defining Eye Brush, $3
Blending Eye Brush, $3 (Post continues after video.)
Now, some of these products definitely deserve honorable mentions. The Mineral Eyeshadow Primer, $8, has been named as a convincing dupe (or copy) for the Urban Decay Primer Potion, $30. I don't think the products are exactly the same – the e.l.f. primer is distinctly thinner – but they both achieve the same task, which is to create an even, non-creasing base for the eyeshadow.
It's the best budget brand eyeshadow primer I've tried, and it is ultra affordable at $8.
I'm obsessed with the e.l.f. Color Sticks, $3, particularly as they remind me of the NARS Multiple, $56. The peachy, bronzey tones, like our friend Golden Peach, are particularly versatile, as you truly can wear them all over your eyes, lips and face.
The Color Sticks provide a huge surge of colour in just one swipe. I also reviewed the Pink Lemonade shade here - I love them that much. The sticks are so small that you can pop them in your handbag (or suitcase, if you're travelling) for on-the-go touch-ups.
Now, I've spent much more than $3 on makeup brushes, only to have them shed hairs all over my face and makeup bag. The e.l.f. Eye Brushes, $3 each, have a great shape and are firm yet soft. And duh, they apply makeup like a dream. I'm sold!
Look two: Sophisticated nighttime.
Seeing as I only go out on dates once every two years (#mumlife), I'd better look good. For this tutorial, I layered some more products on top of the existing daytime makeup. Because who has time to completely re-apply a face of makeup?
Again, I wanted a very highlighted, luminous makeup look, which is tres chic right now.
e.l.f. products used:
Baked Eyeshadow in Burnt Plum, $8.
Brightening Eyeliner Pencil in Black, $3
Shimmering Facial Whip in Lilac Petal, $3
Matte Lip Color in Rich Red, $8
Eyeshadow Brush,$3
Defining Eye Brush, $3
Blending Eye Brush, $3  (Post continues after video.)
OK, we must talk about the Shimmering Facial Whip, $3. If you love to highlight your face, and if you are as obsessed with strobing as I am, then you absolutely must buy this product. It's cheaper than a cup of coffee for me (I have soy and honey, don't judge).
What's even more exciting is that the Lilac Petal shade is a believable and lovable dupe for Benefit High Beam, $45. And when it comes to choosing between forking over $3 versus $45, the answer is obvious.
Now, the Baked Eyeshadows, $8 are gorgeous. The colour is immediate and strong unlike other cheap eyeshadows which take about a million layers of application until you can actually see them. The two eyeshadow colours I used, Toasted and Burnt Plum also layered nicely on top of each other.
Finally: The lipstick. I love the easy twist-up applicator of the Matte Lip Color, $8, and just one swipe yielded tons of juicy colour. The blue-red colour made my teeth look white, which is always a win.
So, whether you want to stock up on basics or are keen to try new trends, like the bronze eyelid or strobing, e.l.f. will be your new, year-round buddy.
Have you tried e.l.f Cosmetics? What did you think?