My little Christmas heart is singing right now.
All thank you to Kmart (unsurprising) and an Instagram post from the ModernWifeLife31.
Please, see below:
Bow your heads and pray to the Kmart/Christmas Gods, who have so kindly given this to me.
The Christmas Elf Door Set is an add-on to the super cute Fairy Door collections, that are available on Esty between $15 and $80.
Kidspot's, "favourite bargain hunter", The Kidz Curator posted that the Elf Door Set will sell-out quickly.
"If ever there was a case of SPRINT don't walk this is going to be it…," they wrote on Instagram. "If you manage to get your hands on this you are going to be super lucky!!!"
Even though I am, a) not a child, and b) do not have children, I took the advice of The Kidz Curator and decided to order my set nice and early.
Only to find this atrocity: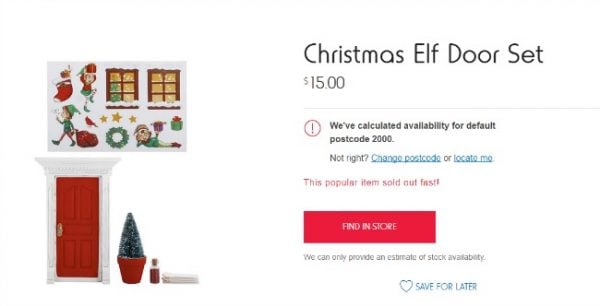 Um, sorry what?
SOLD OUT.
It is only October 5 and I already can't get my new favourite Christmas decoration. AND, I thought you guys whipped out all your Christmas stock straight after Easter?
Alas, I have saved the product for later and I would recommend you do, too.
H/T Kidspot
The award-winning podcast Mamamia Out Loud is doing their first live show. There will be laughs, disagreements and you can meet the hosts afterwards! We're also donating $5 of every ticket price to Share The Dignity so grab your friends and come along to share the love and laughs, get your tickets here.