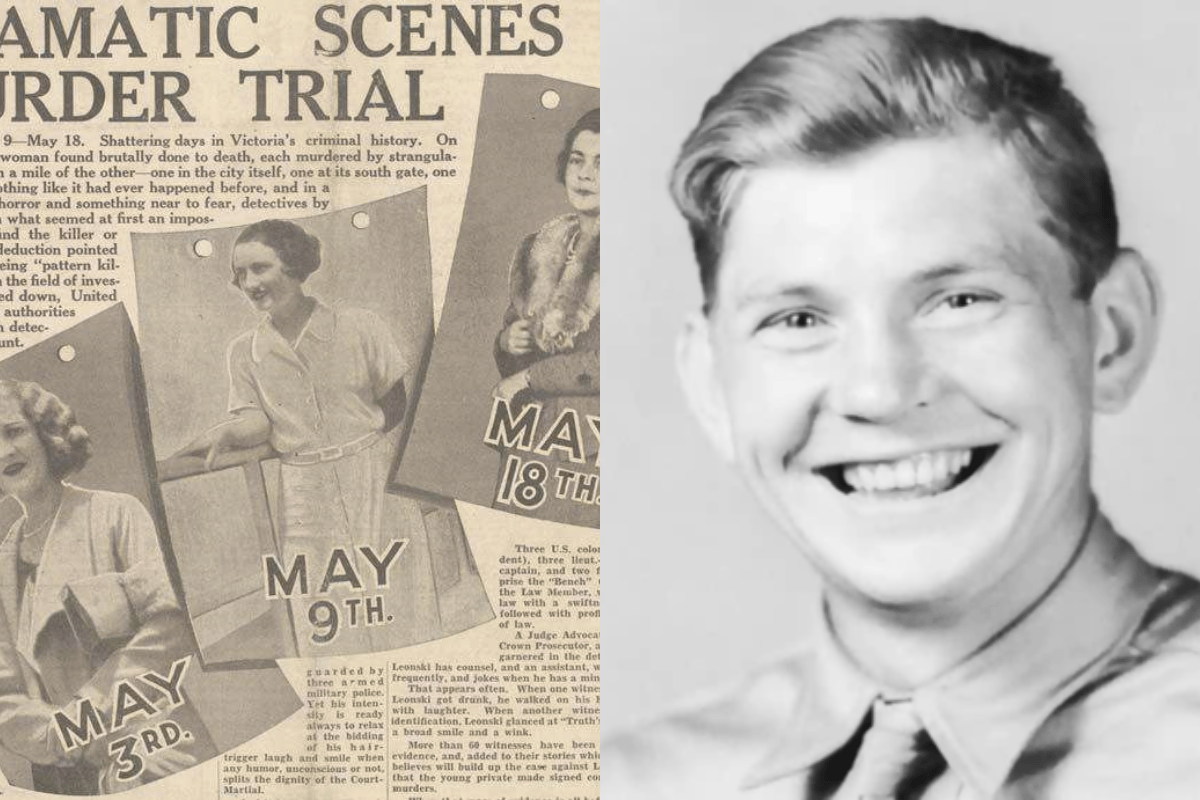 Warning: This post mentions murder and graphic descriptions and might be triggering for some readers.
Edward Leonski was a handsome, tall private in the US Army, stationed in Melbourne alongside 15,000 other troops in the early 1940s.
The American soldiers were big, burly and a shining picture of the 'American dream', with their neatly pressed uniforms, generous pay checks to spend however they pleased and big, wide smiles.
But Eddie - while handsome and charming to a fault - was unlike other soldiers. He was unlike anyone, really. 
In fact, his reputation amongst his peers was disturbing. Not only was he a drunken show-off, he was prone to worrying bouts of violence. If he wasn't serving breakfast to those in Camp Pell - where he and the other soldiers were living while in Melbourne - he was falling into an inebriated, vicious stupor. 
There was something else about Eddie too, something much more sinister. He had an obsession with women's voices. 
It was an obsession that would turn him into a killer war-time Melbourne would come to know as 'The Brownout Strangler.'
Listen: to this week's True Crime Conversations delve into the case. Post continues.
Leonski had a troubled upbringing. 
The sixth child of Russian-Jewish immigrants, his childhood home in New Jersey was one regularly exposed to vicious beatings and drunken cruelty by his father. 
He was a mummy's boy, and was often comforted by his mother singing him to sleep of an evening. The theory goes, that this is where his obsession with female voices began. 
As author of Murder At Dusk Ian Shaw told Mamamia's True Crime Conversations, "Eddie was an archetypal male who puts all women into one of two categories; the Madonna or the whore. And to Eddie, the Madonna's were the ones who sang. Everyone else, including women who were just lovely, lovely women, he would read their behavior as representing something that it didn't."
"To me, he was always looking for something in womanhood - in feminine energy - that he could never find. He wanted all the women to be like his mother, but to be lovers as well."
As an adult, Leonski was a bodybuilder, a boxer and an alcoholic. He was called up to the US Army in 1941, and arrived on Melbourne soil on February 2, 1942. According to reports, he already had a violent track record by the time he arrived, having gotten away with attacking a woman on the streets of San Antonio.
Just three months after his arrival Leonski had murdered for the first time, taking the life of 40-year-old Ivy McLeod.
Thanks to the government-mandated brownouts during the wartime era, Leonski's murders were committed in the shadows, at a time where street lamps were few and far between and car headlights were taped over to omit only the smallest slices of light.