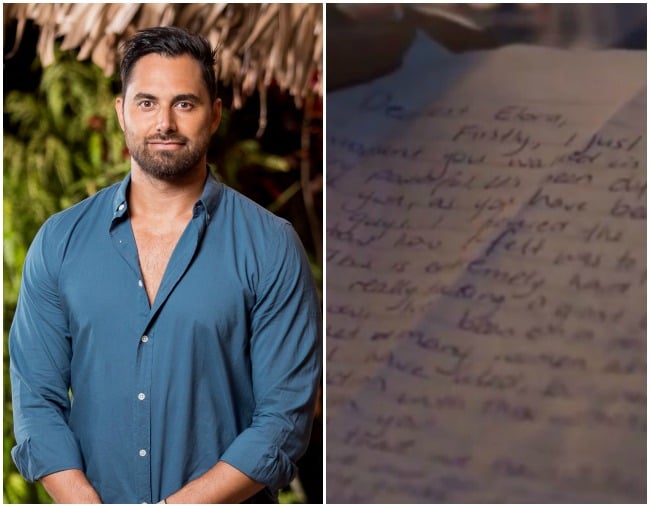 1. So… it turns out it wasn't actually Eden who wrote the fake love letter on Bachelor in Paradise.
Last week, when Eden penned a fake 'love' letter to Elora, supposedly from American Jared, Australia was decidedly unimpressed.
Is he 12? Why do something so cruel? What is the point of it? we collectively despaired.
But a source alleges to The Daily Mail not all was as it seemed. (Yes, reality TV that distorts reality. A true novelty.)
"Sam and Tara wrote the letter with Eden. They even admitted to helping Eden on camera, but it would have ruined their image if it got played," the source told the news outlet.
"In the end, Eden took the fall for them all! Wouldn't want to taint the image of this season's golden couple," they added.
… Interesting.
LISTEN: Does Leonardo DiCaprio need to start dating women his own age? Post continues.

2. People have spotted some very odd details about Beyonce's Coachella performance.

It's now a week since Beyonce performed her much-hyped set at Coachella and boy, did the internet have a lot of things to say.
Among the adoration for the singer were various tweets picking up the minutiae of the performance: Namely, how did Beyonce change her nail polish mid set? And also, how why are there photos of her with her boots are varying heights?
It looked like this: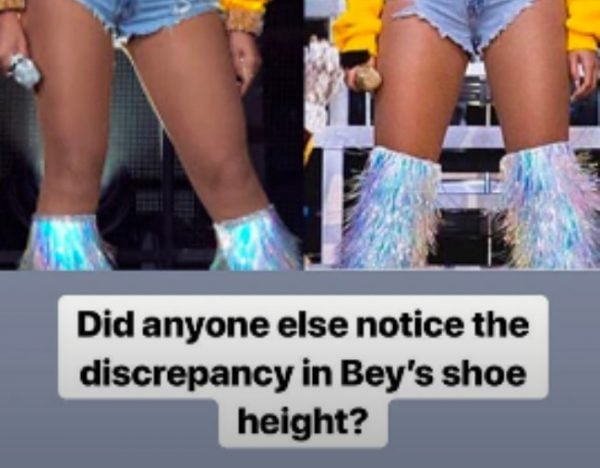 But of course, it's not a grand conspiracy without a relatively straight forward answer. When Buzzfeed did some digging, they found that actually, some of those photos were from a rehearsal she did the night prior to her performance.
So, naturally, details changed - including the height of her boots.
Boom.
3. The clue that Alex Nation and Maegan Luxa really are broken up.

We first met Alex Nation as the single mum keen to win Richie Strahan's heart on The Bachelor.
While Richie eventually picked Alex and the pair dated for a few months after the show, they later broke up and Alex started dating her AFL team mate Maegan Luxa.
The pair announced their engagement last year but now it seems they have called it quits.
While rumours flew this week that the couple was no longer together, Alex made one move that seemed to really point to a breakup.
She... she... deleted all her photos of Maegan from this year off her Instagram account.
The last photo of them together was posted on 30 December, 2017.
Yep, in 2018 speak, that pretty much means they're finito.
Alex and Maegan are yet to publicly confirm the split.
4. This is the man tipped to replace Karl Stefanovic on Today.

Um, so it turns out Channel Nine might have a Karl Stefanovic replacement in the wings.
You see, after Karl's disgruntled Uber conversation earlier this year, it's been rumoured the network may look to replace the Today show co-host.
And according to Daily Telegraph columnist Annette Sharp, they may replace him with none other than Channel Nine Adelaide newsreader Brenton Ragless.
While Ragless remains relatively unknown to the wider Australian public outside of Adelaide, he's apparently the Nine bosses' top pick for Karl's replacement.
Ragless filled in for Stefanovic over the Christmas period, a move the Channel Nine executives took note of.
A Channel Nine insider told the Daily Telegraph the 41-year-old is "absolutely delightful".
Ragless began his career in PR before becoming a local news weatherman in 2008. He then made the jump to news anchor in 2015.
According to Sharp, the Nine execs like the fact Ragless is an "every man" and very "un-Sydney".
"In Ragless, executives have spotted someone who is utterly himself — and not just a Stefanovic clone as one Nine insider put it last week," writes Sharp.
5. All the gorgeous photos from Eddie Bartholomew's wedding.
On Saturday, Sunrise presenter Edwina Bartholomew married her long-term partner Neil Varcoe at the couple's farm in the Capertee Valley.
Posting on Instagram about the day, Bartholomew said nothing more than the fact the couple had "the best day", surrounded by 160 friends and family.
The ceremony took place at Warramba, in the Greater Blue Mountains, at the property the couple own; a 1980s sandstone cottage on just over 100 acres.
Bartholomew was the third generation of women in her family to wear the wedding dress. It was lovingly restored by Melbourne designer, Sonia Cappellazzo.
See all the gorgeous photos here.