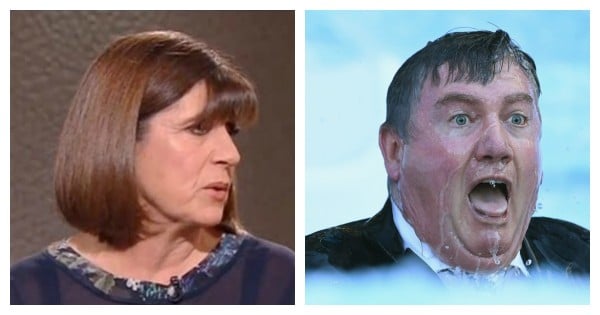 You don't always know when you are going to wake up to a shit sandwich of a day. Even when you say something stupid, it can take hours, or even days before the momentum builds and the shit starts to rain down.
After that it can take hours more – sometimes even days – before you realise what you said was stupid enough to warrant an apology.
Welcome to the world of radio host and Collingwood president Eddie McGuire who even yesterday when he was called out in a newspaper column for inciting violence against a female journalist – probably still didn't realise how fraught his Monday was going to become.
By lunch time today though he was rightly copping it from all sides for his comments on radio a week ago in which he said he'd like to see Fairfax football journalist Caroline Wilson drowned.
Eddie Mcguire jokes about drowning Caro Wilson and Danny Frawley offers to hold her under #StandUp #SpeakOut @AFL https://t.co/oDUEZUrd55

— bronte lee (@bronte__lee) June 18, 2016
He didn't actually say those words, but that's what was clearly implied.
The controversial comments were made by McGuire, North Melbourne president James Brayshaw and former St Kilda captain Danny Frawleyon radio last Monday, while discussing the "Big Freeze at the G", an event in which celebrities slide into icy water to raise money for motor neurone disease.
"In fact I reckon we should start the campaign for a one-person slide next year," McGuire said.
"Caroline Wilson. And I'll put in 10 grand straight away — make it 20. And, if she stays under, 50."
"What do you reckon guys? Who else is up there? I know you're in JB," he said to James Brayshaw.
Brayshaw replied: "No, yep, straight in."
Frawley then said, "I'll be in amongst it Ed."