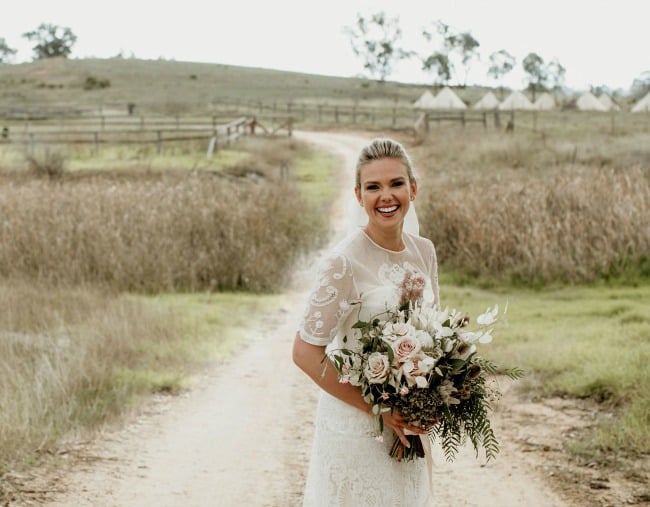 When Edwina Bartholomew tied the knot with long-term partner Neil Varcoe last month on their Capertree Valley farm, everything seemed to run like clockwork. There was flawless weather, a picturesque sunset, and just enough Australian botanical flowers to make a girl weep (and not because of hay fever, okay?).
Not to mention, 34-year-old Bartholomew wore a restored version of her grandmother's lace wedding dress, and there's that gorgeous fact the couple asked their guests to bring their favourite book as a wedding present.
Everything seemed to be picture perfect, but in an interview with TV Week, the Sunrise presenter said not everything went to plan as seamlessly as it might have appeared on Instagram.
Bartholomew said on the day, they lost power and ran out of diesel. But thankfully, they had some prepared neighbours.
"The showers went out in the morning, and the lights went out at night," Bartholomew said.
"We had to duck over to our neighbours' house and get more [diesel], and some people from town had to bring in some more from the servo in a couple of jerry cans.
"Then, when the generator fired back up, the band fired back up, and we were on again!"
She also held fears of running out of toilet paper and alcohol with no back-up shops around the corner.
So, while Bartholomew's wedding endured some uniquely rural dilemmas, she hopes that the royal wedding of Prince Harry and Meghan Markle that she is covering in London this weekend is smooth sailing.
"Certainly, at Windsor Castle, they have sorted enough loo paper – and diesel for the generator, I hope," she said.
"It would be wonderful if they can take a tiny moment together that's just for them. In a day of chaos and attention, I hope they get that."