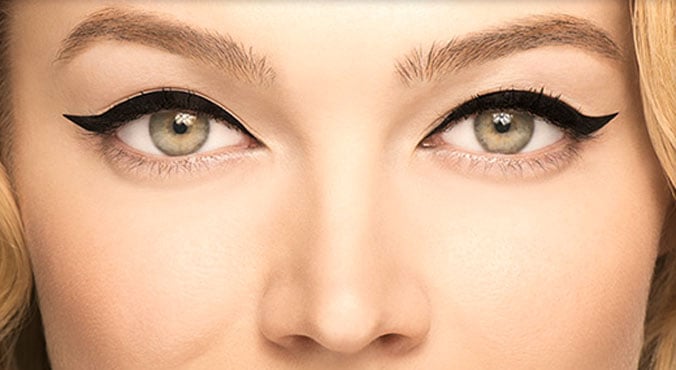 Image via Benefit
Welcome to the Newness Alert, our fortnightly  post detailing the best new beauty products. From holographic glitter nail polishes to jelly for your face these are the products you need to know about now.
essie limited edition Encrusted collection
Price: $16.95
On shelf: July and August only.
I have two words for you: holographic glitter. If those two words make your heart beat as hard as ours, you may want to take note of essie's latest nail polish release. Available in six shades: Belugaria, Hor d'oeuvres, Ignite the Night, Lots of Lux, Peak of Chic and Silver Platter.
Benefit They're Real! Push-Up Liner
Price: $35
On shelf: June 27, 2014
Good news winged eyeliner fans! Benefit is releasing the first ever gel liner in a pen – seriously why didn't anyone think of this before? They're Real! Push-Up Liner has an angled tip brush making it super easy to apply. It's waterproof so this matte black formula won't smudge, budge or dry out.
NB: Benefit is also releasing They're Real! Remover made for taking off long wearing and waterproof mascara and eyeliner. On shelf in June.
Dermalogica Dynamic Skin Recovery SPF50
Price: $87.50
On shelf: Jun 01, 2014
The skincare gurus over at Dermalogica have developed a daily moisturiser that hydrates and prevents the appearance of hyperpigmentation and fine lines while helping to protect the skin against sun damage. Dynamic Skin Recovery SPF50 counts hyaluronic acid and algae extract among its superstar ingredients.
Hydraluron Moisture Jelly
Price: $39.99
On shelf: Jun 01, 2014
Jelly, it's not just for kids. Hydraluron have developed Moisture Jelly, which delivers hydration to the skin while retaining optimal moisture levels. The jelly is suitable for all skin types and can be used morning and at night.
WELLA Professionals Oil Reflections
Price: $32.50
On shelf: 1 June 2014.
Well Professionals Oil Reflections contains three natural antioxidant-rich ingredients: macadamia seed oil, avocado oil and Vitamin E to condition hair and lock in colour and shine. Smelling like a tropical holiday, it tames flyaway hair without weighing it down.
NARS lip glosses
Price: $40
On shelf: 1 June 2014
NARS have reformulated their lip gloss to make it less sticky, added a new "doe-foot " applicator and made the bottle clear. Enriched with nourishing ingredients for long-lasting smooth, comfortable wear. Available in 10 new bright pigments ranging from Greek Holiday (a pink shimmer) to Sixties Fan (a dark pomegranate).
Images: Supplied