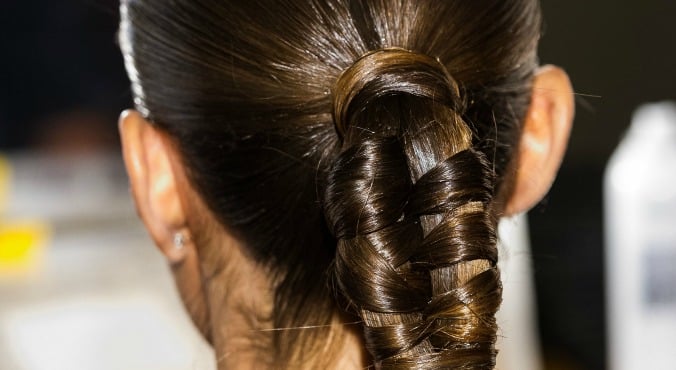 Image via Lucas Dawson
While taking inspiration from the runway is all very well and good, sometimes the looks just don't translate to our everyday lives.
Forget theatrical backcombing, statement making mohawks (for real) and any other styles that require three pairs of hands at once – I have trouble blow drying my own hair, for goodness sake. But not this time.
RELATED: The fail-safe way to tame those wispy bits of hair
For the Kookai A/W '15 Runway, L'Oreal Director of Hair Joe Cotroneo sent models out rocking what's being pegged as the hairstyle of the season.
And it's one anyone can easily recreate at home. In fact, you probably did it the other day without even thinking.
Yes, the humble ponytail is back – but not as you know it.
Inspired by the clothes on the runway, the ponytails were neat and sleek with a modern touch."The difference with this ponytail that makes it so on trend is the braid feature at the back which is the focal point," Joe says.
RELATED: The one hair trend we didn't see coming
"We did a braid from the base of the ponytail, weaving it halfway down, then left the rest to flow naturally and create movement.
"Keep the ponytail mid height so the feature can be seen, and pair it with the side part, which will also be big this season" he says.
 Get the look