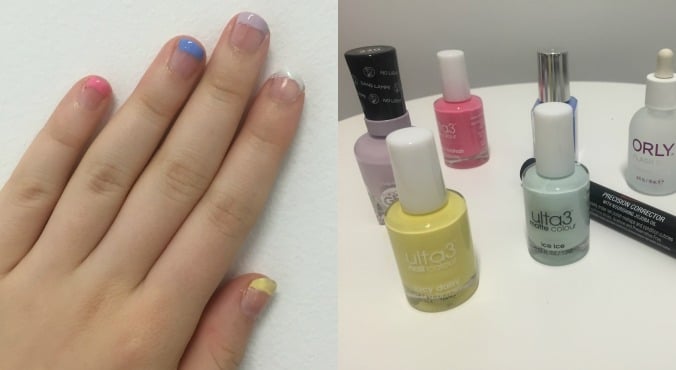 Image: supplied.
Once the only style you'd go to a salon to get, the traditional French manicure has become a little "passe" in recent times.
Overshadowed by bold nail art, bright colours or 'naked' nails, as The Glow's beauty director Nicky Champ once put it, it seemed like the only people left getting french manicures in 2015 were "brides and strippers." Until now.
Yes, the french manicure is back but with a colourful twist. Perfect for the warmer months, this bright take on the traditional style is quick, easy and most importantly – totally foolproof. (Post continues after video.) 
How to: Colourful french mani
A personal favourite of mine because it looks far more complex than it is, you can make it as simple or as bold as you liked based on the number of colours that you pick. For spring I love a combination of pastel colours, but opting for single colour like red or burgundy is a great sophisticated option too.
Step 1: Paint the tip of your nails in your first or chosen colour. Try and keep it to less than 1/3 of the nail although you don't have to worry about it being too neat – that's the point!
I used five – Ulta 3 Nail Colour in Candy Mohair (pink), Lacy Daisy (lemon) and Ice Ice (mint), Sally Hansen Miracle Gel in All Chalked Up (lilac) and Barry M Gel Hi Shine in Blueberry (blue).
Step 2: Apply the Quick Dry Drops to speed up the process.(Post continues after gallery.)
The Glow's essential nail prepping products.
Step 3: Using the Revitanail Corrector Pen, gently shapen and neaten up your coloured strip into a a curved moon shape, similar to the tip of a french manicure. For shorter nails, keep it thin while longer nails can afford to go a bit thicker.
Step 4: Apply a second layer of quick dry drops (or wait to dry naturally) then apply top coat to seal and add shine.
If you're feeling confident you can also experiment further – try using a coloured base coat underneath the tips, playing with colour combinations or even adding patterns/
What's your favourite nail design to DIY?