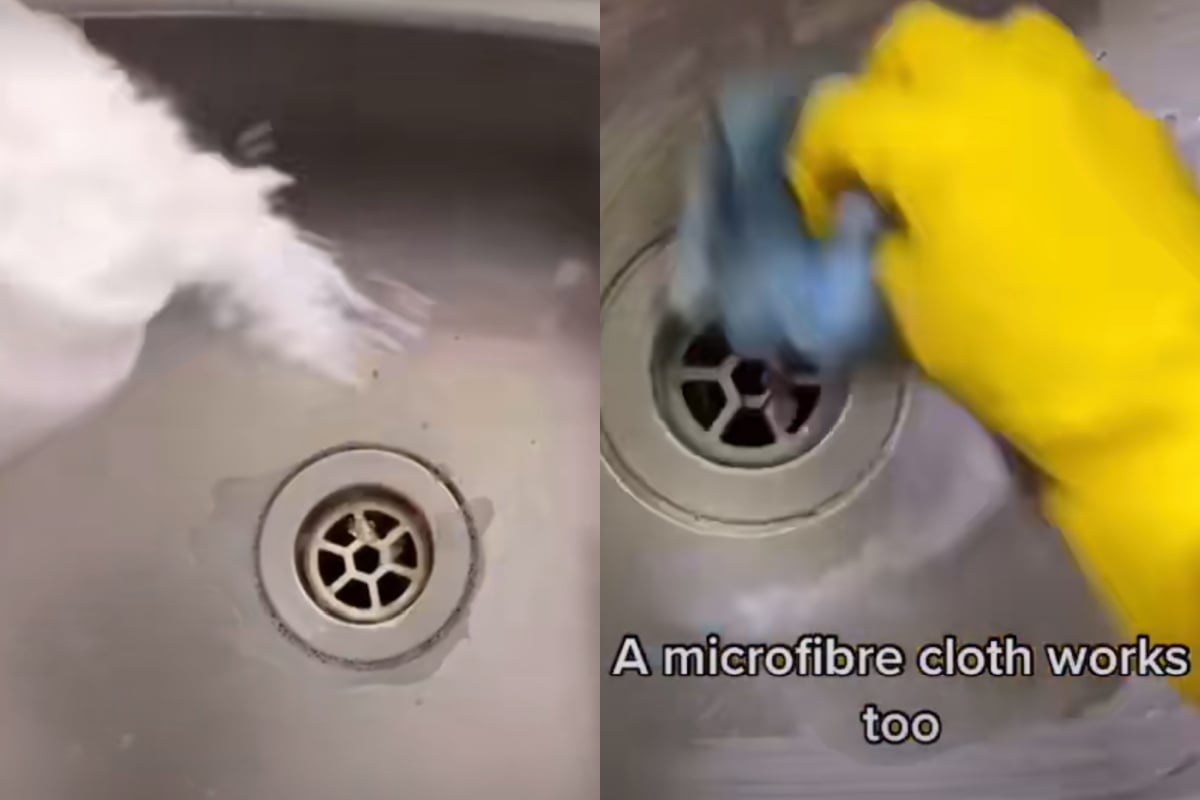 Every now and then a cleaning hack comes along that makes us question our entire existence.
From strip soaking to cleaning our washing machine (yeah, apparently that's a thing we're meant to do), the internet is full of time-saving hacks to help us get through the dreaded weekly cleaning ritual.
And while we've all been spending more time at home over the last few months, people have been sharing their genius cleaning ideas online. Here are 13 of the best that will change the way you clean forever.
Watch: Four cleaning hacks that will make your life so much easier. Post continues below.
The cheap as chips product for a shiny sink.
A professional cleaner has shared her two product recommendations for cleaning a stainless steel sink, and we're listening. 
Posting to TikTok, Australian woman Kacie recommended using a cream cleanser (such as Jif or Ajax, priced roughly from $2 to $4) to keep your sink looking shiny.
If you're looking for a natural alternative, Kacie recommended bicarbonate of soda, which you can find at any local supermarket for under $2.
"If you're looking for something non-toxic, bicarb soda, you can touch it; but if chemicals don't phase you, just go with a cream cleanser, but wear gloves," she said in the clip. 
In the video, Kacie applied the cream cleanser to the entire sink before scrubbing it with a scour. And the results were incredibly satisfying. 
Yep, it's the perfect hack for a shiny sink.
The $10 brush that instantly cleans grout.
Cleaning grout is one of those chores that we like to put off for as long as possible. There's just something about spending hours ferociously scrubbing the tiny cracks in between tiles that just doesn't appeal to a lot of people.¯\_(ツ)_/¯
But it turns out a $10 brush from Bunnings is all you need to clean your bathroom floors.